Jessica Darling's It List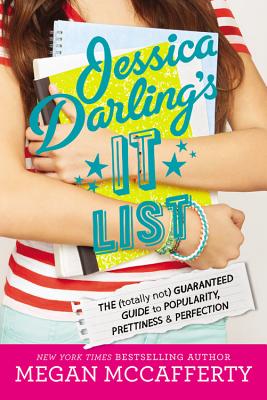 Jessica Darling's It List
The (Totally Not) Guaranteed Guide to Popularity, Prettiness & Perfection
Poppy Books, Hardcover, 9780316244992, 228pp.
Publication Date: September 3, 2013
* Individual store prices may vary.
Not Currently Available for Direct Purchase
or
Shop Local
Enter your zip code below to purchase from an indie close to you.
Description
I hadn't even gotten to homeroom yet and I'd already discovered five hard truths about junior high:

1. My best friend had turned pretty.
2. She didn't know it yet.
3. It wouldn't be long before she did.
4. That knowledge would change everything between us.
5. And there wasn't a thing I could do about it.

It's the first day of seventh grade. Is Jessica Darling doomed for dorkdom?

New York Times bestselling author Megan McCafferty's hilarious new novel will have you laughing, cringing, and cheering for Jessica Darling as she learns that being herself beats being popular, pretty & perfect any day.
About the Author
Megan McCafferty is the author of Bumped as well as the New York Times bestselling Jessica Darling series, which includes Sloppy Firsts, Second Helpings, Charmed Thirds, Fourth Comings, and Perfect Fifths. She lives in Princeton, New Jersey, with her family.
Praise For Jessica Darling's It List…
"Readers meeting Jessica for the first time will be charmed by this authentic and funny girl who makes well-tread territory feel as new as a pair of first-day-of-school sneakers."
-Publishers Weekly

"Jessica is a winning heroine, and as she stumbles and fumbles (and literally falls flat on her face), readers will laugh alongside her and, yes, cheer as she comes into her authentic self."
-Booklist

"Brief characterizations of teachers and students are often humorously spot-on, and rules, such as those for cutting lines, fully capture the junior high social scene in all its often distressing ignominy."
-Kirkus Reviews

"Told in the hilariously authentic voice of a preteen girl, this book will have readers laughing out loud at Jessica's high jinks, especially her disastrous stint as the school's mascot."
-School Library Journal

"I loved meeting Megan McCafferty's hilarious and irrepressible Jessica Darling in Sloppy Firsts. Now, I'm thrilled to turn back the clock and watch her navigate the highs and lows of seventh grade. I laughed and cheered for her and so will you."
-Wendy Mass, New York Times bestselling author of The Candymakers and 13 Gifts

"If I had to do seventh grade all over again, there's nobody I'd rather have by my side than Jessica Darling. She's funny, winning, and completely relatable, and it's impossible not to root for her through all her misadventures. I'm already excited to find out what the next chapter of her story might bring!"
-Jennifer E. Smith, author of This is What Happy Looks Like, The Statistical Probability of Love at First Sight, and The Storm Makers

"My long-lost friend Jessica Darling is back! I feel so lucky to have a peek into her middle school years in Megan McCafferty's sparkly new series. How I've missed you so, Jessica Darling!"
-Jenny Han, New York Times bestselling author of the Summer series and Shug

"Trust me, you'll adore Jessica Darling ten different ways."
-E. Lockhart, author of The Boyfriend Listand The Disreputable History of Frankie Landau-Banks