Hunt the Falcon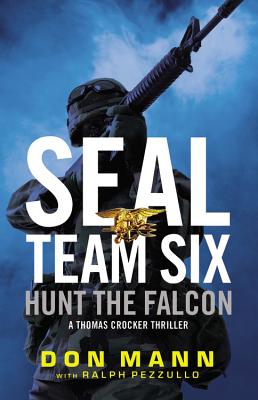 Hunt the Falcon
A Thomas Crocker Thriller
Mulholland Books, Hardcover, 9780316247115, 322pp.
Publication Date: December 3, 2013
* Individual store prices may vary.
Shop Local
Enter your zip code below to find indies closest to you.
Description
SEAL Team Six and Thomas Crocker are back hunting their most elusive adversary yet: The Falcon.
SEAL Team Six operative Thomas Crocker is no stranger to missions of the highest national importance and the gravest danger. But this time, the mission hits close to home. The Iranian terrorist he and his squad are chasing is the same man who kidnapped his wife months before-the Falcon, who has been stealing Libyan nuclear material and is laying plans for a devastating attack against America. The hunt takes the team from Bangkok to Caracas in hot pursuit of the Falcon and his forces.
Meanwhile, Corcker's estranged father--a former firefighter and hell-raiser who was kicked out of the Nacy as a young seaman--reappears, forcing Crocker to acknowledge his life outside the shadows of SEAL operations. Doing so isn't easy when duty calls over three hundred days of the year, and when it's this essential to take an enemy down.
"Hunt the Falcon" ups the ante for Crocker and the rest of SEAL Team Six as never before. The bullets fly, the action is relentless, and by the end Crocker and his crew will be put to the ultimate test: surviving captivity under the most depraved of men and taking the fight to the Falcon's doorstep, deep in the heart of Iran.

About the Author
Don Mann, CWO3, USN, has for thirty years been associated with the Navy SEALS either as a platoon member, assault team member, boat crew leader, or advanced training officer, and more recently as a program director preparing civilians to go to BUD/s (SEAL Training). Up until 1998 he was on active duty with SEAL Team Six. Since his retirement, he has deployed to the Middle East on numerous occasions in support of the war against terrorism. Many of the active duty SEALs on SEAL Team Six are the same guys he trained. He has suffered two broken backs, two cases of high altitude pulmonary edema, and multiple other broken bones, in training or service. He has been captured twice during operations and lived to talk about it.

Ralph Pezzullo is a "New York Times" bestselling author and award-winning playwright, screenwriter, and journalist.
Praise For Hunt the Falcon…
"A shoot'em-up novel contemporaneous with world politics . . . Action is the purpose here and Mann and Pezzullo deliver . . . They put the reader in the center of the action-the smells, sounds, savagery of war."
-Kirkus Reviews

"A wave of attacks that leaves Americans dead across the planet is only a prelude to a far more ambitious campaign of terror in Mann and Pezzullo's rousing third Thomas Crocker thriller...They deliver exactly what fans want."
-Publishers Weekly

"This fast-paced book provides a riveting and accurate description of how special operations units actually conduct counterterrorist operations in the field. . . . If you are interested in reading a suspenseful, action-filled novel written by the 'real deal' instead of some amateur wanna-be, pick up this book, or any of those in the SEAL Team Six series."
---James Blount, Central Intelligence Agency

"The SEAL Team Six series by my teammate Don Mann are a must read by anyone who enjoys real deal elite special ops thrillers. Don's insights, tactical know-how and technical expertise, drawn from his many years as a SEAL 6 and 'OGA' operator in murky corners of the globe, are unparalleled."
-Commander Mark Divine, author of The Way of the SEAL, Unbeatable Mind and 8 Weeks to SEALFIT

"Don Mann's Navy SEAL novels are etched with his personal experiences combined with an exciting fictional tale that could actually happen. I felt the adrenaline pumping."
-Stew Smith, former Navy SEAL and author of The Complete Guide to Navy SEAL Fitness

PRAISE FOR THE SEAL TEAM SIX SERIES
"Reads like a Jack Reacher novel by Lee Child--fast and clean. But there's more military structure, more politics, and lots of action. HOOAH!" --San Jose Mercury News