The Quarry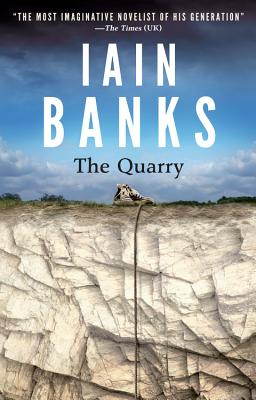 The Quarry
Redhook, Hardcover, 9780316281867, 326pp.
Publication Date: June 25, 2013
* Individual store prices may vary.
Not Currently Available for Direct Purchase
or
Shop Local
Enter your zip code below to purchase from an indie close to you.
Description
Eighteen-year-old Kit is weird: big, strange, odd, socially disabled, on a spectrum that stretches from "highly gifted" at one end, to "nutter" at the other. At least Kit knows who his father is; he and Guy live together in a decaying country house on the unstable brink of a vast quarry. His mother's identity is another matter. Now, though, his father's dying, and old friends are gathering for one last time.

"Uncle" Paul's a media lawyer now; Rob and Ali are upwardly mobile corporate bunnies; pretty, hopeful Pris is a single mother; Haze is still living up to his drug-inspired name twenty years on; and fierce, protective Hol is a gifted if acerbic critic. As young film students they lived at Willoughtree House with Guy, and they've all come back because they want something. Kit, too, has his own ulterior motives. Before his father dies he wants to know who his mother is, and what's on the mysterious tape they're all looking for. But most of all he wants to stop time and keep his father alive.

Fast-paced, gripping and savagely funny, The Quarry is a virtuoso performance whose soaring riffs on the inexhaustible marvel of human perception and rage against the dying of the light will stand among Iain Banks' greatest work.


About the Author
Originaire de Fife, en Ecosse, et reconnu comme l un des meilleurs ecrivains de sa generation, Iain Banks a publie une trentaine de romans best-sellers, dont le celebre "cycle de La Culture" et "Transition", publie chez Calmann-Levy en 2012. Repute pour ses ouvrages de science-fiction, il est l auteur d une dizaine de romans litteraires, tous salues par la critique. Il est decede en 2013.
Praise For The Quarry…
"A goodbye letter to the world and all of its wonder and terror."—Cory Doctorow, boingboing.net

"Some of the funniest writing Banks has ever produced. A writer who has the rare gift of being infallibly entertaining."—The Telegraph

"It's the testimony of a writer refusing to go quietly, Iain Banks has got the last word."—The Sunday Times

"The Quarry is a satisfying end to a fine writing career."—Sunday Express

"The Quarry is an honorable finale to an exciting career."—The Guardian

"This is a novel that's perched at the dangerous edge of things, looking down. It's an urgent novel and an important one."—The Observer

"Iain Banks's gift to us over nearly 30 books, a brilliant, piercing depiction of just how funny, stupid, pointless, infuriating, glorious, mind-bending, and inane life can be. And that's why he's been a constant inspiration to me as a novelist and a human being."—Independent on Sunday

"A powerful and affecting book. The Quarry reaches a pitch of emotion that only a reader made of granite could read without tears."—Sunday Herald

"The Quarry is...a novel shot through with Banks's trademark humor, political engagement, and hope."—The Times, Book of the Week

"In Banks we had a novelist of supreme subtlety and one who...had an irrepressible sense of fun, that is evident on every page of The Quarry."—The Independent

"Remarkable."—The Scotsman

"A compelling, raw book. Well-told, like all his books."—Evening Standard

"The book should comfort his fans in many ways, not least the rather hopeful ending and the almost belligerent way in which Guy remains true to his beliefs. Iain Banks may have just missed seeing his last book on the shelves but he can rest safe in the knowledge that what he has bequeathed us is something very fitting for such a stand-out career."—Express (4 Star Review)

"This is vintage Banks, full of heart, black comedy, and vitriol, and is sure to delight his fans."—Sunday Mirror

"With its deadpan teen narrator and stern rural backdrop, it is hard not to find in The Quarry a trace of Banks's enduring debut novel The Wasp Factory and with it the closing of a literary circle... The Quarry is a fitting valediction."—TLS, review

"Banks was an extraordinary writer; in straight literary fiction and in his science fiction novels, he engaged the world with passion... For good reason, Banks's many fans will devour this book."—Library Journal