The Convert's Song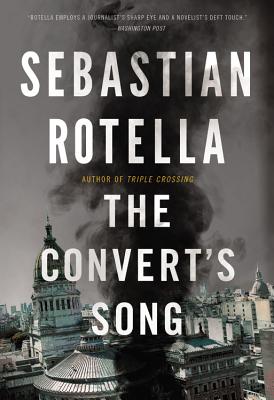 The Convert's Song
Mulholland Books, Hardcover, 9780316324694, 336pp.
Publication Date: December 9, 2014
* Individual store prices may vary.
Buy Now
or
Shop Local
Enter your zip code below to purchase from an indie close to you.
Description
A global manhunt sweeps up a former federal agent when his childhood friend becomes the chief suspect in a terrorist rampage.
His hazardous stint in U.S. law enforcement behind him, Valentine Pescatore has started over as a private investigator in Buenos Aires. Then he runs into a long-lost friend: Raymond Mercer, a charismatic, troubled singer who has converted to Islam. After a terrorist attack kills hundreds, suspicion falls on Raymond---and Pescatore.
Angry and bewildered, Pescatore joins forces with Fatima Belhaj, an alluring French agent. They pursue the enigmatic Raymond into a global labyrinth of intrigue. Is he a terrorist, a gangster, a spy? Is his loyalty to Pescatore genuine, or just another lethal scam?
From the jungles of South America to the streets of Paris to the battlegrounds of Baghdad, THE CONVERT'S SONG leads Pescatore on a race to stop a high-stakes campaign of terror.

About the Author
Sebastian Rotella is an award-winning foreign correspondent and investigative reporter at ProPublica, a New York City-based nonprofit that produces journalism in the public interest. Rotella worked for almost twenty-three years for the "Los Angeles Times", covering everything from terrorism to arts to the Mexican border. In April 2012, Rotella was named winner of the seventh annual Urbino Press Award, which recognizes members of the American press who are committed to excellence in journalism. He served most recently as a national security correspondent in Washington, DC, and his previous posts include international investigative correspondent and bureau chief in Paris and Buenos Aires, with assignments in the Middle East and North Africa. In 2006, he was named a Pulitzer Prize finalist for international reporting for his coverage of terrorism and Muslim communities in Europe. He won the German Marshall Fund's Peter Weitz award for excellence in European reporting the same year. He was part of a team whose coverage of al-Qaida received an award from the Overseas Press Club and finalist honors for Harvard University's Goldsmith Prize for Investigative Reporting in 2002. In 2001, he won Columbia University's Maria Moors Cabot Prize for his career coverage of Latin America. His work in Latin America also won honors from the Overseas Press Club, the Inter-American Press Association, and the American Society of Newspaper Editors. He is the author of two books: "Twilight on the Line: Underworlds and Politics at the U.S.-Mexico Border", which was named a New York Times Notable Book in 1998; and the novel "Triple Crossing", published by Little, Brown/Mulholland Books in 2011. He speaks Spanish, French, and Italian. Rotella is a graduate of the University of Michigan and was born in Chicago.
Friday, Dec 12, 2014
Alan Cheuse reviews "The Convert's Song" by Sebastian Rotella. More at NPR.org