Revenger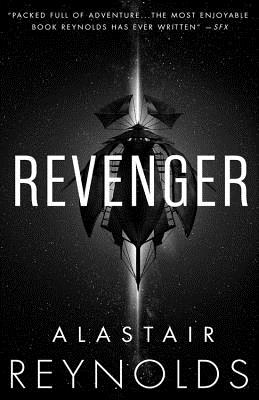 Revenger
Orbit, Paperback, 9780316555562, 432pp.
Publication Date: February 28, 2017
* Individual store prices may vary.
Buy at Local Store
Enter your zip code below to purchase from an indie close to you.
or
Buy Here
Description
A superb science fiction adventure set in the rubble of a ruined universe, this is a deep space heist story of kidnap, betrayal, alien artifacts and revenge. The galaxy has seen great empires rise and fall. Planets have shattered and been remade. Amongst the ruins of alien civilizations, building our own from the rubble, humanity still thrives.
And there are vast fortunes to be made, if you know where to find them...
Captain Rackamore and his crew do. It's their business to find the tiny, enigmatic worlds which have been hidden away, booby-trapped, surrounded by layers of protection - and to crack them open for the ancient relics and barely-remembered technologies inside. But while they ply their risky trade with integrity, not everyone is so scrupulous.
Adrana and Fura Ness are the newest members of Rackamore's crew, signed on to save their family from bankruptcy. Only Rackamore has enemies, and there might be more waiting for them in space than adventure and fortune: the fabled and feared Bosa Sennen in particular.
Revenger is a science fiction adventure story set in the rubble of our solar system in the dark, distant future - a tale of space pirates, buried treasure, and phantom weapons, of unspeakable hazards and single-minded heroism... and of vengeance...
About the Author
Alastair Reynolds was born in Barry, South Wales, in 1966. He studied at Newcastle and St. Andrews Universities and has a Ph.D. in astronomy. he stopped working as an astrophysicist for the European Space Agency to become a full-time writer. Revelation Space and Pushing Ice were shortlisted for the Arthur C. Clarke Award; Revelation Space, Absolution Gap, Diamond Dogs, and Century Rain were shortlisted for the British Science Fiction Award, and Chasm City won the British Science Fiction Award.