Writing with Mentors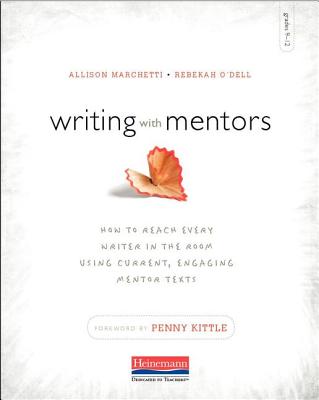 Writing with Mentors
How to Reach Every Writer in the Room Using Current, Engaging Mentor Texts
Heinemann Educational Books, Paperback, 9780325074504, 224pp.
Publication Date: September 3, 2015
* Individual store prices may vary.
Buy at Local Store
Enter your zip code below to purchase from an indie close to you.
or
Buy Here
Description
-Writing With Mentors is one of the best books I've read on harnessing the power of mentor texts to spur authentic student writing.- --Kelly Gallagher, author of Write Like This
-Writing With Mentors has transformed the way I think about using exemplar pieces.- --Christopher Lehman, coauthor of Falling in Love with Close Reading
-I am certain Don Graves] would have celebrated these wise, kind, and fearless advocates for young writers.- --Penny Kittle, author of Write Beside Them
In Writing with Mentors, high school teachers Allison Marchetti and Rebekah O'Dell prove that the key to cultivating productive, resourceful writers-writers who can see value and purpose for writing beyond school-is using dynamic, hot-off-the-press mentor texts. In this practical guide, they provide savvy strategies for:
--finding and storing fresh new mentor texts, from trusted traditional sources to the social mediums of the day
--grouping mentor texts in clusters that show a diverse range of topics, styles, and approaches
--teaching with lessons that demonstrate the enormous potential of mentor texts at every stage of the writing process.
In chapters that follow the scaffolded instruction Allison and Rebekah use in their own classrooms, you'll discover how using mentor texts can unfold across the year, from inspiration and planning to drafting, revising, and -going public- in final publication. Along the way, you'll find yourself reaching every writer in the room, whatever their needs. -Our hope in this book, - they write, -is to show you a way mentors can help you teach anything you need or want to teach in writing. A way that is grounded in the work of real writers and the real reading you do every day. A way that is sustainable and fresh, and will serve your students long after they leave your classroom.-