Broca's Brain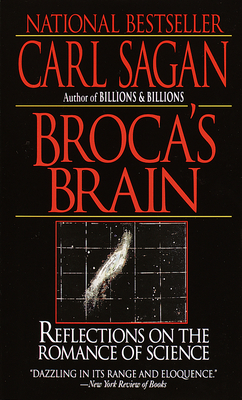 Broca's Brain
Reflections on the Romance of Science
Presidio Press, Mass Market Paperbound, 9780345336897, 398pp.
Publication Date: February 1986
* Individual store prices may vary.
Buy Now
or
Shop Local
Enter your zip code below to purchase from an indie close to you.
Description
Carl Sagan, writer and scientist, returns from the frontier to tell us about how the world works. In his delightfully down-to-earth style, he explores and explains a mind-boggling future of intelligent robots, extraterrestrial life and its consquences, and other provocative, fascinating quandries of the future that we want to see today.
About the Author
Carl Sagan was the David Duncan Professor of Astronomy and Space Sciences and Director of the Laboratory for Planetary Studies at Cornell University. He played a leading role in the Mariner, Viking and Voyager missions to the planets and briefed the Apollo astronauts before their flights to the Moon. He helped solve many mysteries in planetary science from the high temperature of Venus to the seasonal changes on Mars. For his unique contributions, he was awarded the NASA Medals for Exceptional Scientific Achievment and for Distinguished Public Service (twice), as well as the Tsiolkovsky Medal of the Soviet Cosmonautics Federation, the John F. Kennedy Award of the American Astronautical Society and the Arthur C. Clarke Award for Space Education.