Ghost King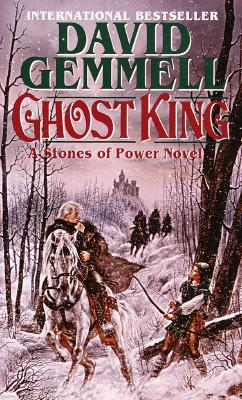 Ghost King
Del Rey Books, Mass Market Paperbound, 9780345379023, 304pp.
Publication Date: November 29, 1995
* Individual store prices may vary.
Buy at Local Store
Enter your zip code below to purchase from an indie close to you.
or
Not Currently Available for Direct Purchase
Description
Chaos and terror stalked the realm. The king had been slain by traitors, and the sword of power had been lost beyond the Circle of Mist. Armies of Saxons, Angles, Jutes, and Brigantes cut a gory swath across the land, led by puppets of the ruthless Witch Queen--whose minions included dark, bloodthirsty creatures and a savage, undead warrior.
All hope lay with young Thuro--in whose veins flowed the blood of kings. He would have to defeat the Witch Queen's monsters and travel to the land of the Mist, there to seek a ghostly army. And the only one who could prepare Thuro to achieve his birthright was the mountain warrior Culain, the one man who knew the queen's deadly secret . . .
The legend of the mystic Stones of Power begins with a tale of blood and glory, of love and betrayal, as a boy must come of age amidst the seemingly impossible quest to become the High King.
About the Author
Depuis Legende, son premier roman (prix Tour Eiffel 2002), David Gemmell n'a publie que des best-sellers. Reconnu comme le maitre de l'Heroic Fantasy en Grande-Bretagne, cet ancien journaliste, grand gaillard de deux metres, avait ete videur dans les bars de Soho a Londres avant de prendre la plume. Sa gouaille naturelle lui avait toujours permis d'eviter de se servir de ses 120 kilos. Cette gouaille se retrouve dans ses ouvrages dont le rythme soutenu entraine le lecteur dans des aventures epiques et riches en couleurs, ou Gemmell savait mettre tout son coeur. Ce meme coeur qui l'a abandonne en juillet 2006, a l'age de 57 ans.