Glass People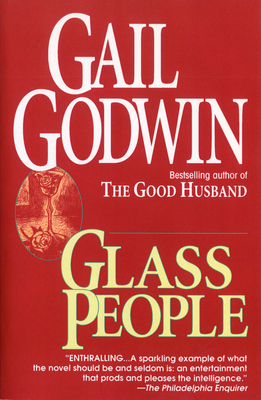 Glass People
Ballantine Books, Paperback, 9780345389909, 224pp.
Publication Date: April 7, 1999
* Individual store prices may vary.
Buy at Local Store
Enter your zip code below to purchase from an indie close to you.
or
Buy Here
Description
"POWERFUL. . .GODWIN IS BRILLIANT. . .DEFTLY PLOTTED AND IMAGINED. . . [It] deepened my long-cherished belief about certain forms of art: that in exploring extremities of human behavior, in forcing us to wade through real or metaphorical blood, such art saves us from these experiences and is cathartic in the best sense of the term."
--Joyce Carol Oates
The Washington Post
Francesca married her husband Cameron, an ambitious Los Angeles district attorney, because he asked. Beautiful and pampered, she has never worked and has never wanted to. She lives only to appreciate the finer things and to be adored. But after four years of marriage, she finds herself unable to move, to dress in the morning, or to take the elevator outside.
Lately, she finds her days drifting by in a haze. She'd like to leave Cameron, but the effort seems too great. Instead, she visits her mother, once her closest confidante, now indifferent and distant. As Francesca prays for rescue, change makes a surprise appearance, and suddenly she is faced with the choice between an awkward life and a slow, comfortable death. . . .
"Deceptively subtle: it would be easy to skim right over all the deep things the author is saying and read her book as a well-written surface story of a beautiful woman who makes an abortive bid for freedom....I have been crying out for contemporary woman's new consciousness to express or define itself in a good novel....Here it is: Glass People by Gail Godwin."
--Anatole Broyard
The New York Times
About the Author
Gail Godwin is the author of ten novels, three of which were nominated for National Book Awards. A Southern Family and Father Melancholy's Daughter were both NYT bestsellers and Main Selections of the Book of the Month Club. She has been translated into 12 languages. She is a Guggenheim Fellow and the recipient of an Award in Literature from the American Academy of Arts and letters. She holds a doctorate in Modern Letters from the University of Iowa and has taught in the Iowa writers Workshop, Vassar and Columbia. A native of Asheville, N.C., she now lives in Woodstock, N.Y.