The Adventures of Lando Calrissian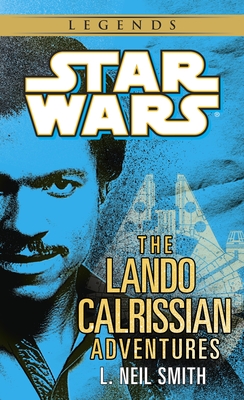 The Adventures of Lando Calrissian
Star Wars
Lucas Books, Mass Market Paperbound, 9780345391100, 416pp.
Publication Date: June 1, 1994
* Individual store prices may vary.
Buy Now
or
Shop Local
Enter your zip code below to purchase from an indie close to you.
Description
For the price of one, you get three Lando Calrissian novels: LANDO CALRISSSIAN AND THE MINDHARP OF SHARU, LANDO CLARISSIAN AND THE FLAMEWIND OF OSEON, and LANDO CALRISSIAN AND THE STARCAVE OF THONBOKA. You know him as a gambler, rogue, and con-artist; Lando's always on the frontier scanning his sensors for easy credits and looking for action in galaxies near and far.
About the Author
Writing in the libertarian tradition of Robert A. Heinlein, L. Neil Smith may be the most widely-published and prolific living libertarian author in the world, with over 20 books to his credit, two of them winners of the Prometheus Award for Best Libertarian Fiction: The Probability Broach and Pallas. He has also published numerous short stories and articles, has contributed gags to such comic strips as "Ziggy" and "Frank and Ernest", and has lectured annually in the Colorado State University Physics Department on the physics of alternative realities. He attended the same university 1964-69, majoring in philosophy and psychology. He has served as a reserve police officer for the city of Fort Collins, Colorado, is a skilled competitive shooter, and is a Life Member of the National Rifle Association. Smith was born in Denver, Colorado on May 12, 1946 to an Air Force family, which led to his growing up all over North America. A highly prophetic author, his writings have predicted, among other things, the collapse of the Soviet Empire, the Internet as we now know it, and the digital watch. He lives in Fort Collins, Colorado with his wife Cathy, his daughter Rylla, and two cats, Amber and Ambrose.