Sonar En Cubano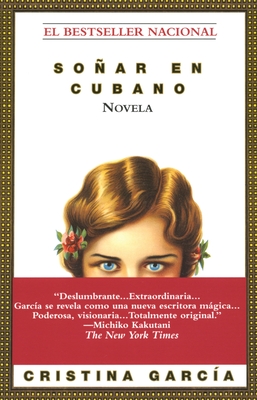 Sonar En Cubano
Ballantine Books, Paperback, 9780345391391, 336pp.
Publication Date: September 6, 1994
* Individual store prices may vary.
Not Currently Available for Direct Purchase
or
Shop Local
Enter your zip code below to purchase from an indie close to you.
Description
EL BESTSELLER NACIONAL
"Deslumbrante...Extraordinaria...García se revela como una nueva escritora m gica...Poderosa, visionaria...Totalmente original."
--Michiko Kakutani, The New York Times
"MARAVILLOSA...UNA NOVELA JOYA... La novela Soñar en cubano est escrita maravillosamente en un lenguaje que es sucesivamente l nguido y sensual, brusco y sorprendente. Como el lenguaje cristalino de Louise Erdrich, destilado de im genes que son nuevas en nuestra literature americana pero antiguas en esta región, Cristina García ha destilado una nueva lengua de los fragmentos salvados por medio del trastorno...Es [la] magia ordinaria en la novela de García, y el sentido propio de lirismo de sus personajes, los que le dan una buena acogida a su trabajo como la última señal de que la literatura americana tiene su propia descendiente hibrida de la escuela latinoamericana."
--Thulani Davis, The New York Times Book Review
"Conmovedora y perspicaz...Habla de una familia que est dividida política y geogr ficamente por la revolución cubana...[y] de las hendiduras que se abren en cada lado: En Cuba, entre una abuela que es una partidaria fervorosa de Castro y una hija que se refugia en un culto de santería afrocubano; en América, entre otra hija, agresivamente en contra de Castro y su propia hija, la artista punk y rebelde, que se burla de su obsesión...El realismo es exquisito."
--Richard Eder,Los Angeles Times
"Extraordinaria...Un tejido intrincado de eventos dram ticos con lo sobrenatural y lo cósmico...Evocadora y opulenta...Una narrativa rica y obsesionante, una voz nueva y excelente en la ficción contempor nea."
--Jackie Jones, San Francisco Chronicle
"Impresionante...Su historia se trata de tres generaciones de mujeres cubanas y sus reacciones por separado a la revolución. Su hazaña particular es la de contaria en un estilo tan caluroso y dulce como los 'aromas continuos de la vainilla y la almendra,' tan rítmico como la música de Beny Moré."
--Amelia Weiss, Time
About the Author
Cristina Garcia is the author of six novels, including the National Book Award finalist "Dreaming in Cuban"; children's books; anthologies; and poetry. She is the recipient of a Guggenheim Fellowship and a Whiting Writers' Award, among other honors, and is currently University Chair in Creative Writing at Texas State University-San Marcos. Visit her website at CristinaGarciaNovelist.com.