Sleepers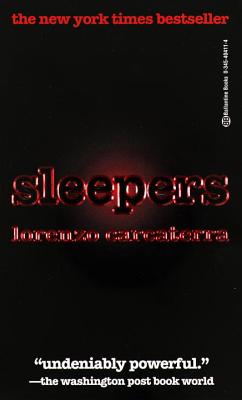 Sleepers
Ballantine Books, Mass Market Paperbound, 9780345404114, 384pp.
Publication Date: March 2, 1996
* Individual store prices may vary.
Buy at Local Store
Enter your zip code below to purchase from an indie close to you.
or
Buy Here
Description
NEW YORK TIMES BESTSELLER - For fans of Game of Silence, Sleepers is the extraordinary true story of four men who take the law into their own hands. This is the story of four young boys. Four lifelong friends. Intelligent, fun-loving, wise beyond their years, they are inseparable. Their potential is unlimited, but they are content to live within the closed world of New York City's Hell's Kitchen. And to play as many pranks as they can on the denizens of the street. They never get caught. And they know they never will. Until one disastrous summer afternoon. On that day, what begins as a harmless scheme goes horrible wrong. And the four find themselves facing a year's imprisonment in the Wilkinson Home for Boys. The oldest of them is fifteen, the youngest twelve. What happens to them over the course of that year--brutal beatings, unimaginable humiliation--will change their lives forever. Years later, one has become a lawyer. One a reporter. And two have grown up to be murderers, professional hit men. For all of them, the pain and fear of Wilkinson still rages within. Only one thing can erase it. Revenge. To exact it, they will twist the legal system. Commandeer the courtroom for their agenda. Use the wiles they observed on the streets, the violence they learned at Wilkinson. If they get caught this time, they only have one thing left to lose: their lives. Praise for Sleepers "Undeniably powerful, an enormously affecting and intensely human story . . . Sleepers is a thriller, to be sure, but it is equally a wistful hymn to another age."--The Washington Post Book World

"A gut-wrenching piece of work . . . Lorenzo] Carcaterra's graphic narrative grips like gunfire in a dark alley."--The Atlanta Journal-Constitution "A terrifying account of brutality and retribution, searing in its emotional truth, peopled with murderers, sadists, and thugs, but biblical in its passion and scope."--People

"Sleepers is so many things: a Dickensian portrait of coming of age in Hell's Kitchen, a terrifying and heartbreaking account of the brutalization of youth, a shocking--and disturbingly satisfying--climax worthy of the finest suspense novel. A brilliant, troubling, important book."--Jonathan Kellerman "Compelling."--USA Today
About the Author
Lorenzo Carcaterra is the #1 New York Times bestselling author of Sleepers, A Safe Place, Apaches, Gangster, Street Boys, Paradise City, Chasers, Midnight Angels, and The Wolf. He is a former writer/producer for Law & Order and has written for National Geographic Traveler, The New York Times Magazine, Details, and Maxim. He lives in New York City with Gus, his Olde English Bulldogge, and is at work on his next novel.