Do Androids Dream of Electric Sheep?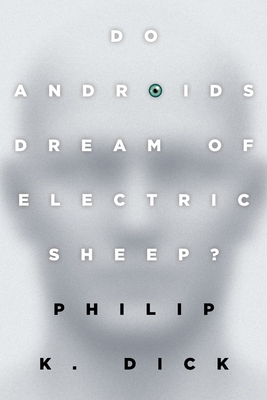 Do Androids Dream of Electric Sheep?
Del Rey Books, Paperback, 9780345404473, 256pp.
Publication Date: May 1996
* Individual store prices may vary.
Buy Now
or
Shop Local
Enter your zip code below to purchase from an indie close to you.
Description
"The most consistently brilliant science fiction writer in the world."
--John Brunner
THE INSPIRATION FOR "BLADERUNNER." . .
"Do Androids Dream of Electric Sheep?" was published in 1968. Grim and foreboding, even today it is a masterpiece ahead of its time.
By 2021, the World War had killed millions, driving entire species into extinction and sending mankind off-planet. Those who remained coveted any living creature, and for people who couldn't afford one, companies built incredibly realistic simulacrae: horses, birds, cats, sheep. . . They even built humans.
Emigrees to Mars received androids so sophisticated it was impossible to tell them from true men or women. Fearful of the havoc these artificial humans could wreak, the government banned them from Earth. But when androids didn't want to be identified, they just blended in.
Rick Deckard was an officially sanctioned bounty hunter whose job was to find rogue androids, and to retire them. But cornered, androids tended to fight back, with deadly results.
" Dick] sees all the sparkling and terrifying possibilities. . . that other authors shy away from."
--Paul Williams, "Rolling Stone.
About the Author
Philip K. Dick (1928-1982) was an American science-fiction novelist, short-story writer and essayist. A contemporary of Ursula K. Le Guin, Dick's first short story, "Beyond Lies the Wub," was published shortly after his high-school graduation. Many of Dick's works drew upon his personal experiences with drug abuse, addressing topics such as paranoia and schizophrenia, transcendental experiences and alternate reality, and the childhood death of his twin sister is reflected through the recurring theme of the "phantom twin" in many of his novels. Despite ongoing financial troubles and issues with the IRS, Dick had a prolific writing career, winning both the Hugo Award and the Nebula Award multiple times. Some of his most famous novels and stories--A Scanner Darkly, "The Minority Report," "Paycheck," and Do Androids Dream of Electric Sheep? (adapted into the film Blade Runner)--have been adapted for film. Dick died in 1982.

Roger Zelazny (1937 1995) was the author of the Chronicles of Amber novels, as well as numerous other classic science fiction and fantasy novels and short stories over a three-decade career. He won the Nebula Award three times and the Hugo Award six times.