Dreamers, Discoverers & Dynamos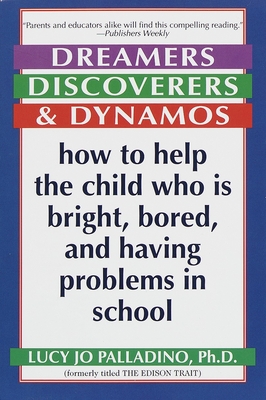 Dreamers, Discoverers & Dynamos
How to Help the Child Who Is Bright, Bored and Having Problems in School
Ballantine Books, Paperback, 9780345405739, 336pp.
Publication Date: January 1999
* Individual store prices may vary.
Buy Now
or
Shop Local
Enter your zip code below to purchase from an indie close to you.
Description
Does your imaginative, computer-proficient daughter tune out in the classroom? Does your spirited son become headstrong and aggressive when faced with the simplest decisions? Does your bold, energetic child have trouble focusing on basic tasks?

Millions of children--one in five--have what psychologist Lucy Jo Palladino, Ph.D., calls the Edison trait: dazzling intelligence, an active imagination, a free-spirited approach to life, and the ability to drive everyone around them crazy. Named after Thomas Edison--who flunked out of school only to harness his talents and give the world some of its finest inventions--the Edison trait is on the rise in our younger generation.

The heart of the issue is that they think divergently--they overflow with many ideas--while schools, organized activities, and routines of daily living reward convergent thinking, which focuses on one idea at a time. Drawing on examples from more than two decades of private practice, Dr. Palladino helps us cope with this challenging aspect of our child's intellect and personality, explaining in clear terms:

- The three Edison-trait personality types: dreamers, discoverers, and dynamos
- The eight steps to understanding, reaching, and teaching your Edison-trait child
- The connection between the Edison trait and A.D.D.
About the Author
Lucy Jo Palladino, PhD, is an award-winning clinical psychologist, researcher, and author. She wrote Dreamers, Discoverers, and Dynamos: How to Help the Child Who Is Bright, Bored, and Having Problems in School and Find Your Focus Zone: An Effective New Plan to Defeat Distraction and Overload, which has been translated into seven languages. She s been featured in national media, including NPR, CNN, Fox, Family Circle, Cosmopolitan, the Washington Post, the Wall Street Journal, and extensively online. She lectures about attention issues and trains educators and parents to teach kids how to pay attention.
Praise For Dreamers, Discoverers & Dynamos…
"Parents and educators alike will find this compelling reading."
--Publishers Weekly

"BRILLIANT . . . ONE OF THE MOST IMPORTANT BOOKS IN THIS FIELD . . . Parents will find in Dreamers, Discoverers, and Dynamos real-world solutions and the light of hope; professionals will discover a thought-provoking new view of these exceptional children."
--THOM HARTMANN
    Author of ADD: A Different Perception
    and The Last Hours of Ancient Sunlight