Comet, Revised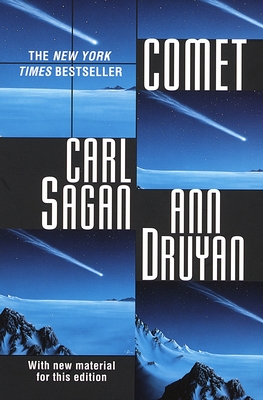 Comet, Revised
Ballantine Books, Paperback, 9780345412225, 432pp.
Publication Date: February 25, 1997
* Individual store prices may vary.
Buy Now
or
Shop Local
Enter your zip code below to purchase from an indie close to you.
Description
WHAT ARE THESE GRACEFUL VISITORS TO OUR SKIES? WE NOW KNOW THAT THEY BRING BOTH LIFE AND DEATH AND TEACH US ABOUT OUR ORIGINS.



Comet begins with a breathtaking journey through space astride a comet. Pulitzer Prize-winning astronomer Carl Sagan, author of Cosmos and Contact, and writer Ann Druyan explore the origin, nature, and future of comets, and the exotic myths and portents attached to them. The authors show how comets have spurred some of the great discoveries in the history of science and raise intriguing questions about these brilliant visitors from the interstellar dark.



Were the fates of the dinosaurs and the origins of humans tied to the wanderings of a comet? Are comets the building blocks from which worlds are formed?



Lavishly illustrated with photographs and specially commissioned full-color paintings, Comet is an enthralling adventure, indispensable for anyone who has ever gazed up at the heavens and wondered why.



"SIMPLY THE BEST."

*The Times of London



"FASCINATING, EVOCATIVE, INSPIRING."

*The Washington Post



"COMET HUMANIZES SCIENCE. A BEAUTIFUL, INTERESTING BOOK."

*United Press International



"MASTERFUL . . . SCIENCE, POETRY, AND IMAGINATION."

*The Atlanta Journal & Constitution
About the Author
Carl Sagan was the David Duncan Professor of Astronomy and Space Sciences and Director of the Laboratory for Planetary Studies at Cornell University. He played a leading role in the Mariner, Viking and Voyager missions to the planets and briefed the Apollo astronauts before their flights to the Moon. He helped solve many mysteries in planetary science from the high temperature of Venus to the seasonal changes on Mars. For his unique contributions, he was awarded the NASA Medals for Exceptional Scientific Achievment and for Distinguished Public Service (twice), as well as the Tsiolkovsky Medal of the Soviet Cosmonautics Federation, the John F. Kennedy Award of the American Astronautical Society and the Arthur C. Clarke Award for Space Education.

Carl Sagan (19341996) is the Pulitzer Prizewinning author of "Cosmos," the bestselling science book ever published in the English language, and "Contact," which was the basis of a major motion picture.
Ann Druyan is Carl Sagans widow and long time collaborator.