Mr. Twilight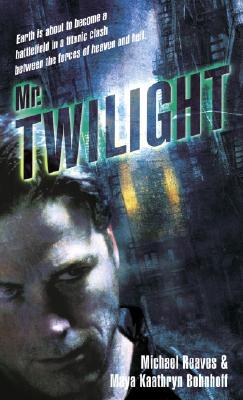 Mr. Twilight
Del Rey Books, Mass Market Paperbound, 9780345423382, 342pp.
Publication Date: September 26, 2006
* Individual store prices may vary.
Buy at Local Store
Enter your zip code below to purchase from an indie close to you.
or
Not Currently Available for Direct Purchase
Description
In bookshop specializing in rare volumes, an avid fan of horror fiction seizes a tome too valuable and too incredible to fathom. In the end, the man was too curious to live. . . .

A few miles away, in a Manhattan brownstone, another man learns about the explosion that left a gaping hole in the fabric of reality. Colin–he has no other name–has been an unrelenting warrior against the dark, the demonic, and the damned. A man who has angels at his side and hell staring him in the face, he has devoted his life to solving magical crimes and tracking down–and neutralizing–the perpetrators of those crimes, human and nonhuman alike. Now Colin is about to team up with a beautiful Native American a long way from home and a tough NYPD detective who seems to be immune to magic. Together, in a funhouse of evidence and apparitions, they are chasing a killer and untangling a tale that leads from the infamous Vlad the Impaler to a dead twentieth-century occult author and his gorgeous daughter–who is as seductive as the devil himself.

Mr. Twilight combines the mystical and the mysterious, the supernatural and the primitive, in a rich, steamy brew of otherworldly adventure.

About the Author
Michael Reaves is an Emmy Award-winning television writer and screenwriter who has written, story edited, or produced nearly four hundred teleplays for various series, including Star Trek: The Next Generation, The Twilight Zone, Sliders, and Monsters. He has published many books, including the New York Times bestseller Star Wars: Darth Maul: Shadow Hunter. He's also written short fiction, comic books, and the dialogue for a Megadeth video. He lives in California.

Hope Schenk-de Michele and Paul Marquez have been best friends for more than four decades. They both grew up in Los Angeles, California, and share a passion for mystery and science fiction. This passion led them to create the forever young and beautiful daughter of darkness, Lucinda. While creating Lucinda's Pawnshop, they co-produced such titles as Bloody Proof and El Grito, a dual language, straight-to-video detective film shot in English and in Spanish. They also produced the 2001 Imagine Awards, 200 episodes of the syndicated home improvement television show Home Magazine, Humphrey the Bear for Galavision, and others. Paul and Hope have also created an exceptionally fun board game called SPIN, SKIN and WIN for the young adult market, and are currently developing it into a television show. To assist in bringing Lucinda's story into the literary world, Hope and Paul enlisted the help of Maya Kaathryn Bohnhoff as a collaborator. Maya is a New York Times best-selling author of science fiction, fantasy, and alternate history, as well as a performing and recording artist with her husband, Jeff. She is the author of more than a dozen novels, including The Last Jedi: Star Wars (Star Wars: Coruscant Nights-Legends) with Michael Reaves (Lucas Books, 2013). Her short fiction has appeared in such magazines as Analog, Interzone, Baen's Universe and Amazing Stories. Maya was a finalist for the John W. Campbell Best First Novel Award in 1990 and is a founding member of Book View Cafe-a publishing collective of professional authors established in 2008 on the theory that you can never have too many books. All three authors reside in California: Marquez in West Hollywood, Schenk-de Michele in Toluca Lake with her husband of twenty-two years, and Bohnhoff with her family in San Jose.