The Force of Character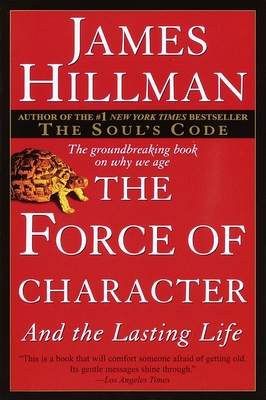 The Force of Character
And the Lasting Life
Ballantine Books, Paperback, 9780345424051, 270pp.
Publication Date: July 5, 2000
* Individual store prices may vary.
Buy at Local Store
Enter your zip code below to purchase from an indie close to you.
or
Buy Here
Description
In his powerful bestseller The Soul's Code, James Hillman brilliantly illuminated the central importance of character to our spiritual and emotional lives. Now, in this magnificent new book, Hillman completes his exploration of character with a profound and revolutionary reflection on life's second half.
"Character requires the additional years," declares Hillman. "The last years confirm and fulfill character." Far from blunting or dulling the self, the accumulation of experience concentrates the essence of our being, heightening our individual mystery and unique awareness of life. Drawing on his grounding in Jungian psychology, Hillman explains here the archetypes and myths that govern the self's realignment in our final years.
The Force of Character follows an enriching journey through the three stages of aging--lasting, the deepening that comes with longevity; leaving, the preparation for departure; and left, the special legacy we each bestow on our survivors.Along the way the book explores the meanings and often hidden virtues of characteristic physical and emotional changes, such as loss of memory, alterations in sleep patterns, and the mysterious upsurge in erotic imagination.
Steeped in the wisdom of a lifetime, radiant with Hillman's reading in philosophy, poetry, and sacred texts, charged with a piercing clarity, The Force of Character is a book that will change--and affirm--the lives of all who read it.
About the Author
The pioneering imaginative psychology of James Hillman that soon will span five decades has entered cultural history, affecting lives and minds in a wide range of fields. For the creativity of his thinking, the originator of Archetypal Psychology and author of A Terrible Love of War; The Soul's Code; and The Force of Character has received many honors, including the Medal of the Presidency of the Italian Republic. He has held distinguished lectureships at Yale, Princeton, Chicago, and Syracuse Universities, and his books have been translated into some twenty languages. The American public showed its appreciation of his approach to psychology by placing his book, The Soul's Code, at the top of the bestseller list of serious works of nonfiction. Of his many books, Spring
Publications has published Anima, Loose Ends, Archetypal Psychology:
A Brief Account, Pan and the Nightmare, Suicide and the Soul,
Insearch, Oedipus Variations (with Karl Kerenyi), The Thought of the
Heart and the Soul of the World, Inter Views, and Lectures on Jung's
Typology (with Marie-Louise von Franz). He lives in Connecticut.
Praise For The Force of Character…
"Marvelous . . . For a book about longevity, The Force of Character is just about perfect, not only for the wisdom of its content but also for its tone and pace."
--San Francisco Chronicle

"This is a book that will comfort someone afraid of getting old. Its gentle messages shine through."
--Los Angeles Times

"Provocative . . . Hillman breathes new life into a venerable concept, and in so doing helps us to rediscover the soulful possibilities of aging."
--Publishers Weekly