Rebel Dream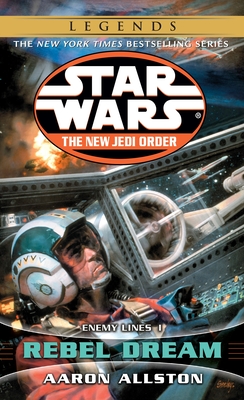 Rebel Dream
Star Wars Legends (the New Jedi Order): Enemy Lines I
Del Rey Books, Mass Market Paperbound, 9780345428660, 320pp.
Publication Date: March 26, 2002
* Individual store prices may vary.
Buy at Local Store
Enter your zip code below to purchase from an indie close to you.
or
Buy Here
Description
As the Yuuzhan Vong's spectacular conquests continue unchecked, Luke Skywalker, Han and Leia Solo, and Wedge Antilles are forced to destroy what they have risked their lives to create. . . . Scattering like rats before the Yuuzhan Vong's invasion of Coruscant, the panic-stricken members of the New Republic Advisory's Council pause just long enough to set up a mock defense on nearby Borleias--a transparent attempt to buy time that fools no one, least of all the Jedi. Leia and Han Solo trek from world to world to foment rebellion against the New Republic's disastrous appeasement policies. But Luke Skywalker has chosen the most dangerous assignment of all: to sneak into the Yuuzhan Vong's stronghold on Coruscant. His outrageous scheme to gain entry is either brilliant or suicidal, depending on the outcome. And bearing down swiftly on Borleias is a Vong invasion fleet, determined to destroy the galaxy's remaining defenders. . . .
About the Author
Aaron Allston was the New York Times bestselling author of thirteen Star Wars novels as well as the Doc Sidhe novels, which combine 1930s-style hero-pulp fiction with Celtic myth. In addition to being a writer, he was a game designer, and in 2006 he was inducted into the Academy of Adventure Gaming Arts and Design Hall of Fame. Allston died in 2014.