Revenge of the Sith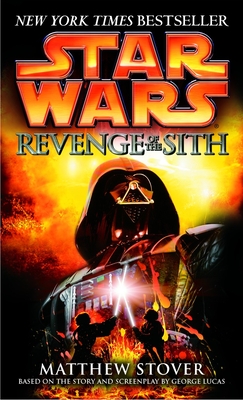 Revenge of the Sith
Del Rey Books, Mass Market Paperbound, 9780345428844, 451pp.
Publication Date: October 25, 2005
* Individual store prices may vary.
Buy Now
or
Shop Local
Enter your zip code below to purchase from an indie close to you.
Description
The turning point for the entire Star Wars saga is at hand. . . ."
"
As combat escalates across the galaxy, the stage is set for an explosive endgame: Obi-Wan undertakes a perilous mission to destroy the dreaded Separatist military leader, General Grievous. Supreme Chancellor Palpatine continues to strip away constitutional liberties in the name of security while influencing public opinion to turn against the Jedi. And a conflicted Anakin fears that his secret love, Senator Padme Amidala, will die. Tormented by unspeakable visions, Anakin edges closer to the brink of a galaxy-shaping decision. It remains only for Darth Sidious to strike the final staggering blow against the Republic and to ordain a fearsome new Sith Lord: Darth Vader.
Based on the screenplay of the final film in George Lucas's epic saga, bestselling Star Wars author Matthew Stover's novel crackles with action, captures the iconic characters in all their complexity, and brings a space opera masterpiece full circle in stunning style.
About the Author
Matthew Woodring Stover is the acclaimed author of "Heroes Die," "Iron Dawn," and "Jericho Moon," He is a student of the Degerberg Blend. This jeet kune do concept is a mixture of approximately twenty-five different fighting arts from around the world and forms the basis for Caine's combat style in the novels. He lives in Chicago, Illinois, with artist and writer Robyn Fielder.
"From the Paperback edition."
Lucas is the creator of Star Wars and director of New Hope