The Civil War Trilogy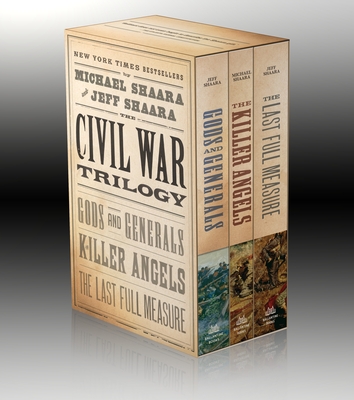 The Civil War Trilogy
Ballantine Books, Boxed Set, 9780345433725, 3pp.
Publication Date: October 1, 2002
* Individual store prices may vary.
Buy at Local Store
Enter your zip code below to purchase from an indie close to you.
or
Buy Here
Description
Michael Shaara reinvented the war novel with his Pulitzer Prize winning masterpiece of Gettysburg, "The Killer Angels." Jeff Shaara continued his father's legacy with a series of centuries-spanning "New York Times "bestsellers. This volume assembles three Civil War novels from America's first family of military fiction: "Gods and Generals, The Killer Angels, "and "The Last Full Measure."
"Gods and Generals" traces the lives, passions, and careers of the great military leaders Thomas Stonewall Jackson, Winfield Scott Hancock, Joshua Chamberlain from the gathering clouds of war. "The Killer Angels" re-creates the fight for America's destiny in the Battle of Gettysburg, the four most bloody and courageous days of our nation's history. And "The Last Full Measure" brings to life the final two years of the Civil War, chasing the escalating conflict between Robert E. Lee and Ulysses S. Grant complicated, heroic, and deeply troubled men through to its riveting conclusion at Appomattox.
Praise for Michael Shaara and Jeff Shaara's Civil War trilogy
Brilliant does not even begin to describe the Shaara gift. "The Atlanta Journal-Constitution"
""
Shaara's beautifully sensitive novel delves deeply in the empathetic realm of psycho-history, where enemies do not exist just mortal men forced to make crucial decisions and survive on the same battlefield. "San Francisco Chronicle, "on "Gods and Generals"
""
Remarkable . . . a book that changed my life . . . I had never visited Gettysburg, knew almost nothing about that battle before I read the book, but here it all came alive. Ken Burns, on "The Killer Angels"
""
"The Last Full Measure" is more than another historical novel. It is rooted in history, but its strength is the element of humanity flowing through its characters. . . . The book is compelling, easy to read, well researched and written, and thought-provoking. . . . In short, it is everything that a reader could ask for. "Chicago Tribune.
About the Author
Michael Shaara was teaching creative writing at Florida State University while writing The Rebel in Autumn. He'd already published most of his 44 short stories (mainly science fiction), and his first novel, The Broken Place, was published to great literary acclaim but few sales. Based on an event at Florida State, Rebel was written during the campus protests of the late 1960s. His agent began shopping the book in 1970, just a few short months before the Ohio National Guard shot into a crowd of student protesters at Kent State University, killing four, in an eerie echo of Rebel's climactic scene. And so the book never saw the light of day, although it is a beautifully written and artfully crafted novel. Shaara's next novel, The Killer Angels, won the Pulitzer Prize in 1975; it is a brilliant portrayal of the Battle of Gettysburg that was later made into the movie "Gettysburg" starring Jeff Daniels, Martin Sheen, Tom Berenger, and Sam Elliot among others. A heart attack killed Shaara in 1988 at the age of 59. His son, Jeff Shaara, has taken up where Michael Shaara left off with The Killer Angels, writing bestselling novels of the Civil War, Mexican War, WWI and WWII, enjoying the commercial success his father was never able to achieve.

The story of Gods and Generals begins with Michael Shaara, author of the Pulitzer Prize-winning classic The Killer Angels. A native of New Jersey, Michael Shaara grew to be an adventurous young man: over the years, he found work as a sailor, a paratrooper, a policeman, and an English professor at Florida State University. In 1952, his son Jeff was born in New Brunswick, New Jersey.
Michael's interest in Gettysburg was prompted by some letters written by his great-grandfather, who had been wounded at the great battle while serving with the 4th Georgia Infantry. In 1966, he took his family on a vacation to the battlefield and found himself moved.
In 1970, Michael Shaara returned to Gettysburg with his son Jeff. The pair crisscrossed the historic site, gathering detailed information for the father's novel-in-progress. In 1974, the novel was published with the title The Killer Angels. This gripping fictional account of the three bloody days at Gettysburg won Michael Shaara a Pulitzer Prize and a vast, appreciative audience. To date it has sold two million copies.
When Michael Shaara died in 1988, his son Jeff began to manage his literary estate. It was a legacy he knew well, having helped his father create it. When director Ron Maxwell filmed the movie Gettysburg, based on The Killer Angels, he asked Jeff to serve as a consultant. Maxwell encouraged Shaara to continue the story his father began; inspired, Jeff planned an ambitious trilogy, with The Killer Angels as the centerpiece, following the war from its origins to its end.
With Gods and Generals, Jeff Shaara gives fans of The Killer Angels everything they could have asked--an epic, brilliantly written saga that bringsthe nation's greatest conflict to life.
Praise For The Civil War Trilogy…
"Brilliant does not even begin to describe the Shaara gift."—The Atlanta Journal-Constitution
 
"Shaara's beautifully sensitive novel delves deeply in the empathetic realm of psycho-history, where enemies do not exist—just mortal men forced to make crucial decisions and survive on the same battlefield."—San Francisco Chronicle, on Gods and Generals
 
"Remarkable . . . a book that changed my life . . . I had never visited Gettysburg, knew almost nothing about that battle before I read the book, but here it all came alive."—Ken Burns, on The Killer Angels
 
"The Last Full Measure is more than another historical novel. It is rooted in history, but its strength is the element of humanity flowing through its characters. . . . The book is compelling, easy to read, well researched and written, and thought-provoking. . . . In short, it is everything that a reader could ask for."—Chicago Tribune