Raising Cain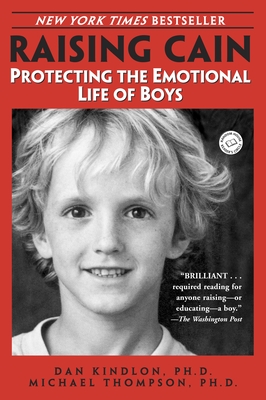 Raising Cain
Protecting the Emotional Life of Boys
Ballantine Books, Paperback, 9780345434852, 320pp.
Publication Date: April 4, 2000
* Individual store prices may vary.
Buy at Local Store
Enter your zip code below to purchase from an indie close to you.
or
Buy Here
Description
In Raising Cain, Dan Kindlon, Ph.D., and Michael Thompson, Ph.D., two of the country's leading child psychologists, share what they have learned in more than thirty-five years of combined experience working with boys and their families. They reveal a nation of boys who are hurting--sad, afraid, angry, and silent. Kindlon and Thompson set out to answer this basic, crucial question: What do boys need that they're not getting? They illuminate the forces that threaten our boys, teaching them to believe that "cool" equals macho strength and stoicism. Cutting through outdated theories of "mother blame," "boy biology," and "testosterone," the authors shed light on the destructive emotional training our boys receive--the emotional miseducation of boys.

Kindlon and Thompson make a compelling case that emotional literacy is the most valuable gift we can offer our sons, urging parents to recognize the price boys pay when we hold them to an impossible standard of manhood. They identify the social and emotional challenges that boys encounter in school and show how parents can help boys cultivate emotional awareness and empathy--giving them the vital connections and support they need to navigate the social pressures of youth.
About the Author
Kindlon, a member of the Harvard University faculty for the past fifteen years. He teaches child psychology and conducts research in child debelopment.

Michael Thompson, Ph.D., is a psychologist, lecturer, consultant, and former seventh-grade teacher. He conducts workshops on social cruelty, children' s friendships, and boys' development across the United States. He is the author of "Speaking of Boys" and coauthor of the "New York Times "bestseller "Raising" "Cain," as well as "Best Friends, Worst Enemies," with Catherine O' Neill Grace and Lawrence J. Cohen. The father of a daughter and a son, he and his wife live in Arlington, Massachusetts. Lawrence J. Cohen, Ph.D., is a psychologist and the author of "Playful Parenting," He is also a columnist for "The Boston Globe," He lives in Brookline, Massachusetts, with his wife and daughter. Catherine O' Neill Grace is the author of numerous nonfiction books for children and was a former middle school teacher. For fifteen years she wrote a "Washington Post" column for young readers about health and psychology. She and her husband live in Waltham, Massachusetts.

Lynne Twist is a veteran global activist and fund-raiser living in San Francisco.
Praise For Raising Cain…
"Brilliant . . . This affectionate, encouraging book should be require reading for anyone raising--or educating--a boy."
--The Washington Post

"Raising Cain gives a long-needed insight into that mysterious, magical land, the psyches of boys. Every parent, teacher--or anyone who wants boys to flourish--should read this book."
--DANIEL GOLEMAN
   Author of Emotional Intelligence

"ENORMOUSLY COMPELLING . . . In much the same way that Reviving Ophelia offered new models for raising girls, therapists Kindlon and Thompson argue that boys desperately need a new standard of 'emotional literacy.' . . . This thoughtful book is recommended for parents, teachers, or anyone with a vested interest in raising happy, healthy, emotionally whole young men."
--Publishers Weekly (starred review)

"RAISING CAIN HELPS US UNDERSTAND THE INNER LIVES OF BOYS MUCH AS MARY PIPHER'S REVIVING OPHELIA SHED LIGHT ON THE STRUGGLE OF THE ADOLESCENT GIRL."
--The Tampa Tribune-Times