Until the Real Thing Comes Along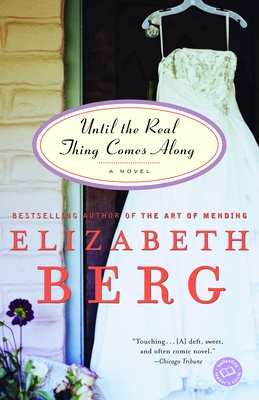 Until the Real Thing Comes Along
Ballantine Books, Paperback, 9780345437396, 272pp.
Publication Date: June 6, 2000
* Individual store prices may vary.
Not Currently Available for Direct Purchase
or
Shop Local
Enter your zip code below to purchase from an indie close to you.
Description
Patty Murphy is facing that pivotal point in a woman's life when her biological clock ticks as insistently as a beating heart. Will she find Mr. Right and start a family? But Patty is in love--with a man who is not only attractive and financially sound, but sensitive and warmhearted. There's just one small problem: He is also gay.

Against her better judgment, and pleas from family and friends, Patty refuses to give up on Ethan. Every man she dates ultimately leaves her aching for the gentle comfort and intimacy she shares with him. But even as she throws eligible bachelors to the wayside to spend yet another platonic night with Ethan, Patty longs more and more for the consolation of loving and being loved. In the meantime she must content herself with waiting--until the real thing comes along. . . .
About the Author
Elizabeth Berg is the author of many bestselling novels, including Open House, an Oprah s Book Club selection, Talk Before Sleep, The Pull of the Moon, Tapestry of Fortunes, The Last Time I Saw You, Home Safe, The Year of Pleasures, and Dream When You re Feeling Blue. Durable Goods and Joy School were selected as ALA Best Books of the Year. Berg has been honored by the Boston Public Library and the Chicago Public Library and is a popular speaker at venues around the country. Her work has been translated into twenty-seven languages. She divides her time between Chicago and San Francisco.
Praise For Until the Real Thing Comes Along…
"Touching . . . [A] deft, sweet, and often comic novel."
--Chicago Tribune

"THIS NOVEL MAKES FOR PLEASANT READING . . . PATTY MURPHY IS APPEALINGLY VULNERABLE. . . . NOVELIST ELIZABETH BERG HAS AN ENGAGING VOICE AND STYLE."
--Los Angeles Times

"A PERCEPTIVE COMEDY OF MODERN MANNERS . . . At the end of each undemanding day, Patty goes home to an empty apartment and listens to her biological clock ticking as ominously as Captain Hook's crocodile. . . . Patty wants a husband and a baby, and not necessarily in that order. . . . But Patty has a problem. Try as she might, there is only one man she can love--her best friend, Ethan--and try as Ethan might, he is quite firmly and intractably gay. With rueful good humor, Until the Real Thing Comes Along shows how Patty and Ethan come to terms with the impossibility of having it all."
--The Boston Globe

"BERG WRITES WITH HUMOR AND UNDERSTANDING ABOUT MATTERS OF THE HEART. . . . The author's generous view of humanity is evident in her characters, who walk right off the page they are so well and truly drawn."
--St. Louis Post Dispatch

"ENTERTAINING . . . FLAWLESS DIALOGUE . . . READING IT IS LIKE EAVESDROPPING ON AN INTIMATE FEMALE CHAT."
--New York Daily News

"COMPELLING . . . [A] WARMLY TOLD TALE."
--People