Natural Suspect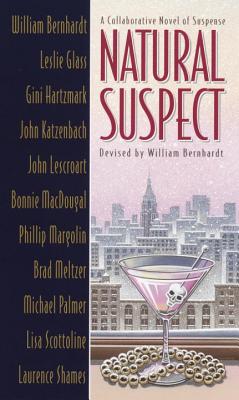 Natural Suspect
Ballantine Books, Mass Market Paperback, 9780345437693, 240pp.
Publication Date: July 30, 2002
* Individual store prices may vary.
Buy at Local Store
Enter your zip code below to purchase from an indie close to you.
or
Not Currently Available for Direct Purchase
Description
What Carl Hiaasen and a host of South Florida's finest authors did for Sunshine State crime capers in the New York Times bestseller Naked Came the Manatee, William Bernhardt now does for legal thrillers–with the help of a "Dream Team" of today's hottest suspense writers. Like a literary game of telephone, Natural Suspect begins with a chapter from Bernhardt. Then each writer contributes a chapter and passes it along to the next. The result is a completely inventive, brilliantly plotted novel of suspense with more twists than a schizophrenic's train of thought. Can you guess who wrote which chapter?

NATURAL SUSPECT

Arthur Hightower made a name for himself and a vast fortune in the oil business. But when the volatile tycoon decides to disinherit his spoiled children and cheating wife, he makes the biggest mistake of his life-- and the last. After declaring his intentions, Hightower turns up on Thanksgiving Day . . . clubbed to death and stuffed in a meat locker, clutching a frozen asset–his wife's precious pearl necklace. Now Julia Hightower stands charged with the cold-as-ice crime of murdering for millions. While the sensational trial has New York in a frenzy, a curious cast of characters face off in and out of the courtroom.

Devin McGee, a small-time lawyer about to hit the big-time defending Julia Hightower-- if her intimate encounter with the prosecutor doesn't catch up with her . . . Trent Ballard, the quirky assistant D.A., who owns a huge pet rabbit and thinks his tryst with Devin will help him get a conviction . . . Patrick Roswell, a wannabe reporter sitting on a scoop that could turn the trial upside-down, unless a scalpel-wielding clown decides to kill the story-- and Patrick . . . Sissy Hightower, Julia's sex-crazed, air-headed daughter-in-law, who has a suitcase full of secrets . . . Robert S. Rutledge, a powerful Wall Street warrior with a lot riding on the Hightower verdict-- and a lot to learn about messing with the wrong people . . . and Cordelia, the mystery woman that everyone seems to know.

All are in for the trial of their lives–but who among them is the true natural suspect?

All author royalties will be donated to The Nature Conservancy.
About the Author
Like a literary game of telephone, "Natural Suspect" combines the talents of a "Dream Team" of today's hottest suspense writers. Each writer contributes a chapter and passes it along to the next. The result is a completely inventive, brilliantly plotted novel of suspense.

Eleven masters of the craft deliver a rollercoaster ride of a book that is as much fun to read as it obviously was to write.

Eleven bestselling masters of the craft have collaborated to write a completely inventive, brilliantly plotted novel of suspense.

William Bernhardt is the bestselling author of thirteen novels, most recently "Murder""One." "Library Journal" calls him "master of the courtroom drama." He has twice won the Oklahoma Book Award for Best Fiction.

Leslie Glass is the beloved author of "Tracking Time," the newest novel of suspense in her popular April Woo series.

Gini Hartzmark taps into her law and business backgrounds to create the engrossing Kate Millholland legal thrillers, most recently, "Dead Certain."

"New York Times" bestselling author John Katzenbach is the author of eight acclaimed novels of suspense, including "Hart's War," " The Shadow Man" and "Just Cause."

John T. Lescroart is a bestselling author of suspense. His novels include "Nothing but the Truth," "The 13th Juror," and "The Mercy Rule."

Bonnie MacDougal is a trial attorney who adds authenticity to everything she writes. She is the author of three legal thrillers, including "Angle of Impact "and "Out of Order."

Phillip Margolin is the Edgar Award-nominated author of "Wild Justice." He was a practicing criminal defense attorney for twenty years.

Brad Meltzer is the "New York Times" bestselling author of "The Tenth Justice," "Dead Even," and "The First Counsel."

Michael Palmer is a master of the medical thriller whose books have been translated into thirty languages. His most recent book is "The Patient."

Bestselling author Lisa Scottoline won the prestigious Edgar Award for "Final Appeal." Her newest legal thriller is "Moment of Truth."

Laurence Shames is the author of "Mangrove Squeeze," "Welcome to Paradise," and other hilarious novels set in Key West. His most recent thriller strips "The Naked Detective."

THE MYSTERY WITHIN THE MYSTERY. . .

Can you guess which author wrote which chapter of "Natural Suspect"? For the opportunity to play detective (and win valuable prizes), log on to http: //www.naturalsuspect.com for details. "From the Hardcover edition."