Welcome to the Great Mysterious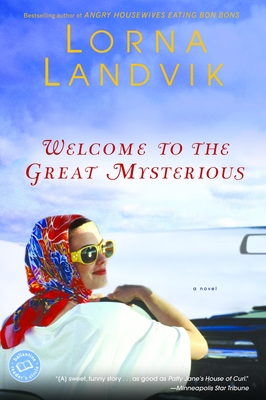 Welcome to the Great Mysterious
Ballantine Books, Paperback, 9780345442741, 368pp.
Publication Date: January 2, 2002
* Individual store prices may vary.
Shop Local
Enter your zip code below to find indies closest to you.
Description
Megastar of stage, screen, and television, Geneva Jordan now has a command performance in Minnesota, where she agrees to look after her thirteen-year-old nephew, a boy with Down's syndrome, while his parents take a long-overdue vacation. Though Geneva and her sister, Ann, are as different as night and day ("I being night, of course, dark and dramatic"), Geneva remembers she had a family before she had a star on her door. But so accustomed is she to playing the lead, finding herself a supporting actress in someone else's life is strange and unexplored territory. Then the discovery of an old scrapbook that she and her sister created long ago starts her thinking of things beyond fame. For "The Great Mysterious" is a collection of thoughts and feelings dedicated to answering life's "big" questions--far outside the spotlight's glow. . . .
About the Author
Lorna Landvik is the bestselling author of Patty Jane's House of Curl, Your Oasis on Flame Lake, The Tall Pine Polka, Welcome to the Great Mysterious, Angry Housewives Eating Bon Bons, and Oh My Stars. Married and the mother of two daughters, she is also an actor, playwright, and dog park attendee with the handsome Julio.
Praise For Welcome to the Great Mysterious…
"[A] sweet, funny story . . . as good as Patty Jane's House of Curl."
—Minneapolis Star Tribune

"[A] CHARMING AND SUCCESSFUL NOVEL . . . SERVED UP WITH GRACE AND GOODNESS."
—Minneapolis Star-Tribune

"FUNNY, HEARTWARMING . . . Admirably captures the ups and downs of a small town from the humorous perspective of a big-city star."
—Publishers Weekly

"GENEVA IS A LOVABLE STAR WHO GROWS IN SURPRISING WAYS."
—Orlando Sentinel

"Characters. And character. That's what Landvik writes best. Humor and humanity are the two elements that run through all of Lorna Landvik's novels."
—The Gazette (Colorado Springs)

"[A] winning tale."
—Kirkus Reviews