Rebirth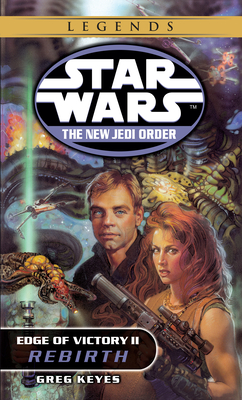 Rebirth
Star Wars Legends (the New Jedi Order: Edge of Victory, Book II)
Del Rey Books, Mass Market Paperbound, 9780345446107, 304pp.
Publication Date: July 31, 2001
* Individual store prices may vary.
Buy at Local Store
Enter your zip code below to purchase from an indie close to you.
or
Buy Here
Description
The Star Wars epic continues its dazzling space odyssey in The New Jedi Order–as Luke and Mara, Leia and Han, and others battle the mighty enemy from beyond the galactic rim.

The brutal Yuuzhan Vong are scouring the universe for Jedi to slaughter. With no help from the divided New Republic, the Jedi stand alone against their seemingly invincible foe. Han and Leia Organa Solo risk deadly consequences with their controversial tactics to bolster the Jedi resistance. After uncovering a new Yuuzhan Vong menace, Anakin and Tahiri find themselves wanted for murder by the Peace Brigade. To avoid capture, they jump into hyperspace . . . and into trouble far graver.

Hunted by the Yuuzhan Vong, wanted as criminals by the New Republic, and with unrest stirring within their own ranks, the Jedi find peril everywhere they turn. But even in the midst of despair, while the most fiercest battle of all looms on the horizon, hope arises with the birth of one very special child. . . .
About the Author
Greg Keyes was born in Meridian, Mississippi, to a large, diverse storytelling family. He is the author of The Briar King, The Charnel Prince, and The Blood Knight (Books One, Two, and Three of The Kingdoms of Thorn and Bone), The Waterborn, The Blackgod, the Age of Unreason tetralogy, and the Star Wars New Jedi Order novels Edge of Victory I: Conquest, Edge of Victory II: Rebirth, and The Final Prophecy. He lives in Savannah, Georgia.

Greg Keyes is the author of numerous science fiction and fantasy novels, including the Kingdoms of Thorn and Bone series, the Star Wars: The New Jedi Order series, and the Age of Unreason quartet.