Crawlers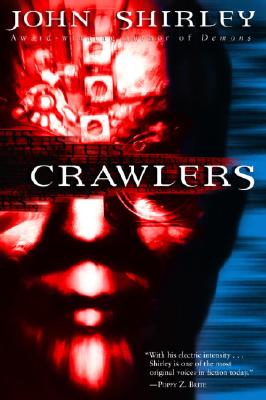 Crawlers
Del Rey Books, Paperback, 9780345446527, 400pp.
Publication Date: November 4, 2003
* Individual store prices may vary.
Buy Now
or
Shop Local
Enter your zip code below to purchase from an indie close to you.
Description
In a secret government lab somewhere in Nevada, a young scientist cowers in darkness-waiting, listening, and calculating his chances of surviving the unspeakable carnage that has left him trapped and alone. Or almost alone.
Soon after, a covert military operation "cleanses" all traces of a top-secret project gone horrifically wrong.
Three years later, it begins again-when the quiet of a warm autumn night in a sleepy California town is shattered by a streak of light across the sky, the thunder of impact, and the unleashing of something insidious. Spreading, multiplying, and transforming everything in its path, this diabolical intelligence will not be denied until the townsfolk-and eventually, all living things-are conquered. Until they are all" crawling." . . .
About the Author
John Shirley considers himself a scientist interested in educating himself and others on the use of software tools to analyze and present scientific data. He has developed software and documentation while consulting for companies that include Digital Equipment Corporation, Concurrent Computer Corporation, Inset Systems, NASDAQ, and Tandem Computers. John's work has included the development of C programs to demonstrate not only the use of DCE remote procedure calls but also multithreaded programming, an application interface for the GEM graphics environment, and storing scientific data. These projects have spanned many operating systems, including OSF/1, UNIX, MS-DOS, and VMS. John earned a B.A. from Alfred University with a dual major in Mathematics and Geology, an M.S. in Geology from Miami University with a specialty in Structural Geology, and an M.S. in Computer Science from Pace University. Prior to consulting, John's career included six years in the oil industry as a geophysicist and international explorationist. His work included the analysis of seismic data from New Zealand, Australia, Turkey, Norway, the Dominican Republic, Jamaica, and the United States. John also worked as a software engineer developing programs for scientific instrument manufacturers. John lives in Newtown, Connecticut, where he maintains a consulting business specializing in documenting and demonstrating complex software.
Praise For Crawlers…
"With his electric intensity, elegant prose, and eye for details both sleazy and tender, Shirley is one of the most original voices in fiction today." –POPPY Z. BRITE

"Barely street-legal, Shirley's Bosch-like visions mark him out as perhaps the closest thing contemporary American fantasy has to a genuine 'outsider artist.' " –WILLIAM GIBSON, Author of Neuromancer

"John Shirley accomplishes things that most writers would not dare to attempt." –BRUCE STERLING, Author of Schismatrix

"John Shirley is an adventurer, returning from dark and troubled regions with visionary tales to tell. I heartily recommend a journey with John Shirley at your side." –CLIVE BARKER

"Shirley's latest begins horrifyingly--a top-secret government lab is destroyed by nasty, experimental nanotechnology--and just gets creepier, though more subtly so for quite a while, with just flashes of strange things in the woods and odd behavior by the involved populace. The comfortable town of Quiebra is in deadly danger, but the government, afraid of what will happen if the outside world finds out what has been let loose, is playing its cards close to its chest. For the Quiebrans, however, their predicament seems at first only a streak of light in the night sky and a potentially profitable salvage operation for Adair Leverton's father. Shirley's characters are believably flawed and variable, while his nasty little nanocreatures are, well, nasty (also singleminded about spreading). Meanwhile, his prose is often quite wonderful, even when he is describing something stomach-turningly icky. This portrayal of the dangers of secret experimentation with the diabolically dangerous is unnerving, not least because it is frighteningly convincing." -Booklist

"Crawlers has Shirley's trademark intensity, moral outrage and critical wit but also includes deep social and political allegories as well. What happens when humanity becomes too dependent upon technology? Are we sacrificing consciousness for mindless pleasures and superfluous comforts? What if sentient technology turns the tables and begins using us as its tool? Shirley's latest is as terrifying as it is thought-provoking." -Bookpage

"CRAWLERS is a horror story on a par with Dean Koontz, Stephen King and Clive Barker. It is a story of science gone amuck and what the consequences are when not enough safeguards are placed on a scientific black-ops experiment. The novel is fast paced and the action never lets up yet the author doesn't ignore character development. The people who populate the pages of this book are rugged individuals who try to fight the enemy and endear themselves to the audience in the process." -All Scifi.com