The Nine Emotional Lives of Cats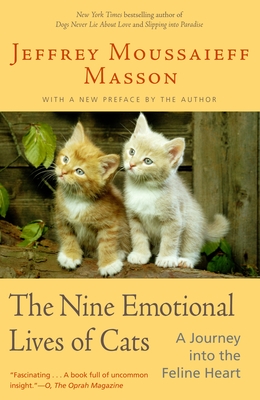 The Nine Emotional Lives of Cats
A Journey Into the Feline Heart
Ballantine Books, Paperback, 9780345448835, 260pp.
Publication Date: June 29, 2004
* Individual store prices may vary.
Buy Now
or
Shop Local
Enter your zip code below to purchase from an indie close to you.
Description
Drawing from literature, history, animal behavioral research, and the wonderful true stories of cat experts and cat lovers around the world, Jeffrey Moussaieff Masson vividly explores the delights and mysteries of the feline heart. But at the core of this remarkable book are Masson's candid, often amusing observations of his own five cats. Their mischievous behavior, aloofness, and affection provide a way to examine emotions from contentment to jealousy, from anger to love. "The Nine Emotional Lives of Cats"will captivate readers with its surprises, offering a new perspective on the deep connection shared by humans and their feline friends.
About the Author
Jeffrey Moussaieff Masson is the author of twenty-five books, including the New York Times bestselling When Elephants Weep and Dogs Never Lie About Love, as well as The Pig Who Sang to the Moon, The Face on Your Plate, and The Assault on Truth. An American, he lives in New Zealand.
Praise For The Nine Emotional Lives of Cats…
"Fascinating . . . A book full of uncommon insight."
—O, The Oprah Magazine

"THIS ENJOYABLE BOOK IS USEFUL FOR ITS INSIGHTS. . . . [IT] IS FULL OF GUIDANCE, BUT ITS VIRTUE IS, SIMPLY, PLEASURE."
—DORIS LESSING

"AN AFFECTIONATE, COMPLETELY ENGAGING BOOK full of new insights into the emotional lives of cats. Of course, all cats are interesting, but Masson's five felines seem particularly so—and you don't need to be a cat lover to enjoy them via these pages."
—ELIZABETH MARSHALL THOMAS
Bestselling author of
The Hidden Lives of Dogs and The Tribe of the Tiger

"It is a rare pleasure to find a person who can enter the 'deep and inscrutable' feline psyche so lovingly and perceptively, and then return to enrich us with such coherent insight and understanding."
—MICHAEL FOX, Veterinarian
Author of Understanding Your Cat

"WITTY, ALLUSIVE, AND OFTEN ENCHANTING."
—Newsday

"A WONDERFULLY THOUGHTFUL—AND THOUGHT-PROVOKING—BOOK ABOUT THE FELINE MIND."
—DESMOND MORRIS
Author of The Naked Ape and Catwatching

"Jeffrey Masson delivers a fascinating and revealing cat's eye view of life among the human animals. Clearly written by a man who listens, watches, and waits, much like the cats who warm his heart and satisfy his curiosity. . . . I recommend this book to any readers who wish to expand their knowledge of life in all its diverse forms."
—INGRID NEWKIRK
President, PETA

"Engaging . . . A book filled with elegant, thought-provoking prose and astute opinions."
—Best Friends magazine

"Highly recommended . . . [Masson] takes anecdotal experience and translates them into enlightened observations that shatter the myths that cats are aloof, independent, and egocentric."
—Library Journal (starred review)

"Anyone who has ever been owned by a cat will find these speculations engaging, finely tuned, and always with plenty of fond anecdotal evidence as they charge across the species barrier."
—Kirkus Reviews

"Do cats feel emotions we know nothing about? Do they surpass humans in any of their feelings? Masson sheds new light on the inner nature of these seemingly solitary and aloof creatures."
—Pet Life magazine

"This appealing book is as much a portrait of Masson as it is of his enchanting cats."
—Publishers Weekly

"Worth reading and reading again, accompanied by a purring lap cat."
—Booklist

"Masson dotes on cats, but the expresses his fondness honorably, with well-observed analyses of everything from the many functions of purring to what cats are really doing when they cut us dead. . . . One of the pleasures of living with cats is that they teach you things."
—O magazine

"I enjoyed this book about our fascinating and often enigmatic friends the cats, and learned from it."
—DORIS LESSING