Mom, They're Teasing Me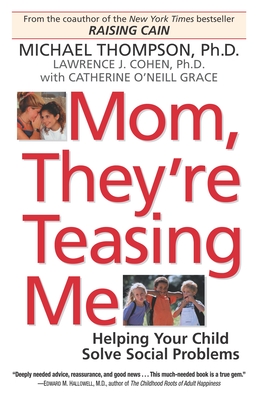 Mom, They're Teasing Me
Helping Your Child Solve Social Problems
Ballantine Books, Paperback, 9780345450111, 272pp.
Publication Date: August 3, 2004
* Individual store prices may vary.
Buy Now
or
Shop Local
Enter your zip code below to purchase from an indie close to you.
Description
Through vividly written case studies and a reader-friendly question-and-answer format, "Mom, They re Teasing Me" is full of specific, how-to advice for parents to help their children navigate the sometimes harsh terrain of social life which includes name-calling, after-school fights, esteem-crushing cliques, and malicious exclusion by the popular kids. Through thoughtful discussion and insightful suggestions, parents will discover
The difference between real risk and normal social pain
The appropriate time to intervene and when to step back
Tips on how to mediate between children without appearing meddlesome
The importance of teaching and encouraging leadership
The redemptive power of friendship
"Mom, They re Teasing Me" answers key questions about the many manifestations of social cruelty, offers compelling descriptions of prime teasing scenarios, and illustrates how to counter them. It is an indispensable book for involved parents who want to make their child's formative years rich and rewarding.
About the Author
Michael Thompson, Ph.D., is a clinical psychologist, lecturer, consultant and former seventh grade teacher. He conducts workshops on the development of boys and social cruelty in childhood for both public and private schools across the United States. He is the author of "Speaking of Boys and coauthor, with Dan Kindlon, Ph.D., of "The "New York Times bestseller "Raising "Cain. The father of a daughter and a son, he and his wife observe children's friendships from their home in Arlington, Massachusetts.
Catherine O'Neill Grace, a writer and editor, is a former elementary, middle, and high school teacher, and was the editor of "Independent School magazine. She wrote a column for young readers about health and psychology in "The Washington Post for fifteen years, and is the author of numerous nonfiction books for children. She and her husband, a headmaster, live on the campus of a boarding school near Boston.
Praise For Mom, They're Teasing Me…
"Deeply needed advice, reassurance, and good news . . . This much-needed book is a true gem."
–EDWARD M. HALLOWELL, M.D., author of The Childhood Roots of Adult Happiness

"A VALUABLE RESOURCE . . . [The authors] help parents deal with a range of social problems. . . . Just as important, they help parents distinguish between the kind of social antagonisms that can traumatize a child and the kind that are just part of growing up."
–Booklist

"Once again Michael Thompson, Lawrence Cohen, and Catherine O'Neill Grace have reached into the hearts and minds of children and parents and given us deeply needed advice, reassurance, and good news. They show us how to deal with some of the most painful moments of childhood and, not only survive them, but thrive. Michael Thompson combines the knowledge and wisdom of a brilliant psychologist with the heart and love of an experienced parent. This much-needed book is a true gem."
–EDWARD M. HALLOWELL, M.D.

"Few parenting challenges compare to helping a kid cope with teasing or being left out. With empathy and understanding, Mom, They're Teasing Me gives parents age-by-age information and practical advice to guide and comfort kids through every stage of their so-called social lives."
–FREDDI GREENBERG
Editor in Chief, Nick Jr. magazine

"What a wonderful and helpful book. It is right on target dealing with a very difficult issue–one that all parents confront–in a truly sensitive and intelligent manner. Above all, Michael Thompson and Lawrence Cohen give answers–why it happens and what to do about it. I was really impressed by their ability to make helpful sense out of a truly difficult part of child-raising."
–ANTHONY E. WOLF, Ph.D.
Author of Get Out of My Life, But First Could You
Drive Me and Cheryl to the Mall?