Balance of Power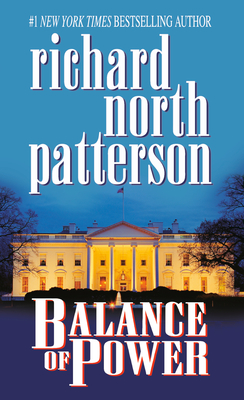 Balance of Power
Ballantine Books, Mass Market Paperbound, 9780345450180, 624pp.
Publication Date: June 29, 2004
* Individual store prices may vary.
Buy at Local Store
Enter your zip code below to purchase from an indie close to you.
or
Buy Here
Description
An epic story that moves with force, passion, and authority, Balance of Power begins when President Kerry Kilcannon and television journalist Lara Costello at last decide to marry. But the momentous occasion is followed by an unspeakable tragedy—a massacre of innocents by gunfire—that ignites a high-stakes game of politics and legal maneuvering in the Senate, the courtroom, and across the country, which the charismatic but untested young President is determined to win at any cost. But in the incendiary clash over gun violence and gun rights, the cost to both Kilcannons may be even higher than he imagined.
About the Author
Richard North Patterson is the author of "In The Name Of Honor", "Eclipse", "The Spire", "Exile", "The Race", "Degree Of Guilt", "Eyes Of A Child", "Silent Witness", and many other bestselling and critically acclaimed novels. Formerly a trial lawyer, he was the SEC liaison to the Watergate special prosecutor, the assistant attorney general for the state of Ohio, and has served on the boards of several Washington advocacy groups. In 1993, he retired from his law practice to devote himself to writing. His first novel, "The Lasko Tangent", was the winner of the Edgar Allan Poe Award for Best First Novel in 1980. He is a graduate of Ohio Wesleyan University and Case Western Reserve University School of Law, and is a recipient of their President's Award for Distinguished Alumni. He lives in Martha's Vineyard, San Francisco, and Cabo San Lucas with his wife, Dr. Nancy Clair. "Richard North Patterson is a terrific novelist."-"The Washington Post"
Praise For Balance of Power…
"A rip-roaring novel about guns, lawyers, and politics . . . This is a great read by a masterful writer."
—SENATOR EDWARD M. KENNEDY

"ALWAYS KEEPS YOU ON THE EDGE OF YOUR SEAT. Patterson has the rare gift of enthralling as he informs."
—The Guardian (London)

"REVEALING . . . WILL LEAVE YOU LOBBYING FOR MORE."
—Entertainment Weekly

"PATTERSON TURNS UP THE HEAT."
—The Dallas Morning News

"A MUST READ."
—FORMER PRESIDENT BILL CLINTON

"THOUGHT-PROVOKING . . . [Patterson's] passion for politics, public discussion, and gun control are infectious and admirable."
—USA Today

"[A] SPELLBINDING NOVEL . . . Patterson's extensive research, plot skills, and ability to create engaging, authentic dialogue set his writing apart. . . . believable and eloquent."
—Associated Press

"Balance of Power is a compelling story, fully worthy of Richard North Patterson, which is made even more intriguing by its detailed insight into the world of special-interests politics in Washington, D.C."
—SCOTT TUROW

"A masterpiece . . . From the first page, President Kilcannon faces plot twists that challenge his resourcefulness and moral character."
—The Tulsa World

"Compulsive reading . . . An engrossing blend of courtroom and political drama."
—The London Times

"IMPORTANT READING, EVEN ESSENTIAL . . . Patterson masterfully touches all the right historical reference points to lure us into his story. . . . The image of the gun—and what to do about it as a society—linger long after the covers close."
—Ft. Myers News Press

"Patterson has done his homework, and Balance of Power presents a clear picture of the arguments and political realities on both sides of the debate."
—The Denver Post

"A powerful, in your face, condemnation of the American political system that abets gun violence . . . Patterson makes no apologies as he denounces a system in which money buys Congressional votes [and] ethics mean nothing."
—The Midwest Book Review

"A harsh, persuasive indictment of the politics that breeds gun violence in America . . . bare-knuckle, page-turning, political infighting. For ordinary folk, it's good stuff. For political junkies, think Harry Potter."
—Kirkus Reviews (starred review)

"One of [Patterson's] best . . . Fascinating . . . A thoughtful exposition of an important issue . . . [Balance of Power] will entertain, challenge, inform—and, just maybe, open a few minds."
—Times Dispatch (Richmond, VA)

"Balance of Power and Protect and Defend stand as a remarkable project in popular fiction: an extension of the genre of the legal thriller to explore the morality and strategies of U.S.'s greatest civic controversies."
—The Guardian (London)