Seven Steps on the Writer's Path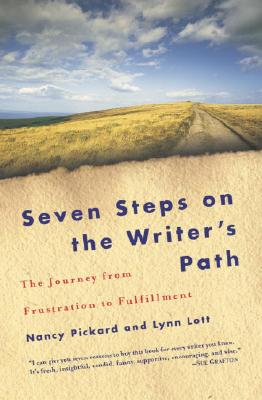 Seven Steps on the Writer's Path
The Journey from Frustration to Fulfillment
Ballantine Books, Paperback, 9780345451101, 258pp.
Publication Date: June 1, 2004
* Individual store prices may vary.
Buy at Local Store
Enter your zip code below to purchase from an indie close to you.
or
Not Currently Available for Direct Purchase
Description
The blank page, the impossible deadline, the rush of inspiration: There is no profession more maddening or more rewarding than being a writer. Yet surprisingly, all writers pass through the same sequence of stages in the course of their careers. It was this remarkable insight that inspired veteran authors Nancy Pickard and Lynn Lott to write one of the wisest and liveliest guides to the literary life ever penned a volume of astonishing revelation, warm reassurance, brilliant encouragement, and welcome humor. No matter what you write or how much recognition you ve received, you are bound to pass through the seven steps on the writer's path: Unhappiness, Wanting, Commitment, Wavering, Letting Go, Immersion, and Fulfillment.
Whether you re a wannabe writer or a published literary veteran, you re bound to find this book a source of true delight, vital wisdom, and lasting inspiration.
About the Author
Nancy Pickard has won numerous mystery awards for her short stories and novels, including an Anthony Award for "Say No to Murder, " a Macavity Award for "Marriage Is Murder, " and two Agatha Awards for Best Novel, for "Bum Steer" in 1990 and "I.O.U" in 1991. She was also nominated for an Edgar Award for "I.O.U." A former reporter and editor, she is a past president of Sisters in Crime, the international association of mystery writers and fans. She lives in Kansas, where she is working on a new mystery to be published by Pocket Books.

Lynn Lott, therapeute familiale, mere de deux enfants, belle mere de deux autres, est l auteur de nombreux ouvrages dans le domaine psycho-educatif (dont quatre en Discipline Positive).
Praise For Seven Steps on the Writer's Path…
"HIGHLY RECOMMENDED . . . SEVEN STEPS is a terrific writer's guide with practical advice and great wisdom for both the novice and veteran."
—Harlan Coben
Author of No Second Chance

"I can give you seven reasons to buy this book for every writer you know. It's fresh, insightful, candid, funny, supportive, encouraging, and wise."
—SUE GRAFTON

"I WISH I'D HAD THIS BOOK TWENTY YEARS AGO! Pickard and Lott illuminate every writer's essential challenge—the creative process, the evolution from idea to finished product. An absolute must for anyone who writes."
—T. J. MACGREGOR
Edgar Award–winning author of Out of Sight

"Every writer gets lost from time to time on the creative journey, and when that happens, it's nice to encounter a friendly and helpful companion like Seven Steps on the Writer's Path. Nancy Pickard and Lynn Lott light the path and guide us out of the darkness one step at a time."
—ROB MACGREGOR
Edgar Award–winning author of Prophecy Rock

"This book made me want to walk straight to the computer and start writing."
—ELAINE VIETS
Author of Shop Till You Drop: A Dead-End Job Mystery

"Seven Steps on the Writer's Path is a must-read, must-absorb, must-follow for anyone who has ever even dreamed of becoming a writer. Nancy Pickard and Lynn Lott brilliantly define the joys and jolts all of us encounter on the tortuous road to publication and beyond, along with excellent practical tips for how-to stay the daunting, difficult course and make those writing dreams a reality."
—JUDITH KELMAN
Author of Every Step You Take

"Seven Steps offers much good advice, both practical and motivational, that's been time- and career-tested. This would be a pleasing companion as you embark on a book project in any genre."
—SUSAN K. PERRY
Author of Writing in Flow: Keys to Enhanced Creativity

"With this enlightening book for writers, we find two authors who not only understand the truth about the writer's life, but also communicate it with flat out honesty, a dose of impishness, and always an abundance of heart."
—GAIL PROVOST STOCKWELL
Cofounder, Write It/Sell It Seminars and
Workshops, and Writers Retreat Workshop