Rise to Rebellion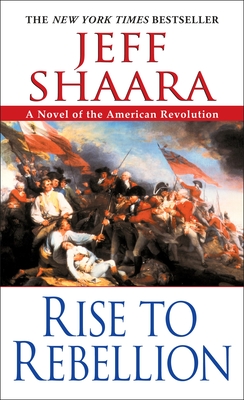 Rise to Rebellion
Ballantine Books, Mass Market Paperbound, 9780345452061, 576pp.
Publication Date: March 26, 2002
* Individual store prices may vary.
Buy at Local Store
Enter your zip code below to purchase from an indie close to you.
or
Buy Here
Description
Jeff Shaara dazzled readers with his bestselling novels"Gods""and Generals, ""The Last Full Measure," and"Gone for Soldiers." Now the acclaimed author who illuminated the Civil War and the Mexican-American War brilliantly brings to life the American Revolution, creating a superb saga of the men who helped to forge the destiny of a nation.
About the Author
The story of Gods and Generals begins with Michael Shaara, author of the Pulitzer Prize-winning classic The Killer Angels. A native of New Jersey, Michael Shaara grew to be an adventurous young man: over the years, he found work as a sailor, a paratrooper, a policeman, and an English professor at Florida State University. In 1952, his son Jeff was born in New Brunswick, New Jersey.
Michael's interest in Gettysburg was prompted by some letters written by his great-grandfather, who had been wounded at the great battle while serving with the 4th Georgia Infantry. In 1966, he took his family on a vacation to the battlefield and found himself moved.
In 1970, Michael Shaara returned to Gettysburg with his son Jeff. The pair crisscrossed the historic site, gathering detailed information for the father's novel-in-progress. In 1974, the novel was published with the title The Killer Angels. This gripping fictional account of the three bloody days at Gettysburg won Michael Shaara a Pulitzer Prize and a vast, appreciative audience. To date it has sold two million copies.
When Michael Shaara died in 1988, his son Jeff began to manage his literary estate. It was a legacy he knew well, having helped his father create it. When director Ron Maxwell filmed the movie Gettysburg, based on The Killer Angels, he asked Jeff to serve as a consultant. Maxwell encouraged Shaara to continue the story his father began; inspired, Jeff planned an ambitious trilogy, with The Killer Angels as the centerpiece, following the war from its origins to its end.
With Gods and Generals, Jeff Shaara gives fans of The Killer Angels everything they could have asked--an epic, brilliantly written saga that bringsthe nation's greatest conflict to life.
Praise For Rise to Rebellion…
"A ROUSING NOVEL RECOUNTING THE EVENTS THAT LED TO THE DECLARATION OF INDEPENDENCE."
–The Washington Times

"Dazzling . . . All the drama of a revolution is brought to light in Rise to Rebellion. . . . A stellar endeavor, it's an unforgettable saga about special men and women who helped forge the destiny of a nation."
–Rocky Mountain News

"THIS MAY BE [SHAARA'S] BEST BOOK YET. . . . A HIGHLY READABLE TALE, HISTORY DISGUISED AS ENTERTAINMENT."
–Seattle Times/Post Intelligencer

"HISTORY MASTER JEFF SHAARA SCORES AGAIN . . . WITH HISTORICAL ACCURACY AND A YOU-ARE-THERE IMMEDIACY."
–The New York Post