The Probable Future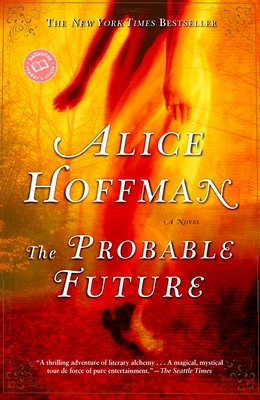 The Probable Future
Ballantine Books, Paperback, 9780345455918, 336pp.
Publication Date: June 1, 2004
* Individual store prices may vary.
Buy at Local Store
Enter your zip code below to purchase from an indie close to you.
or
Buy Here
Description
The women of the Sparrow family have lived in New England for generations. Each is born in the month of March, and at the age of thirteen, each develops an unusual gift. Elinor can literally smell a lie. Her daughter, Jenny, can see people's dreams as they re dreaming them. Granddaughter Stella, newly a teen, has just developed the ability to see how other people will die. Ironically, it is their gifts that have kept Elinor and Jenny apart for the last twenty-five years. But as Stella struggles to cope with her disturbing clairvoyance, the unthinkable happens: One of her premonitions lands her father in jail, wrongly accused of homicide. The ordeal leads Stella to the grandmother she's never met and to Cake House, the Sparrow ancestral home full of talismans and fraught with history. Now three generations of estranged Sparrow women must come together to turn Stella's potential to ruin into a potential to redeem.
About the Author
Alice Hoffman is the author of fifteen acclaimed novels, most recently "Blue Diary." She lives outside Boston.
Praise For The Probable Future…
"A thrilling adventure of literary alchemy . . . A magical, mystical tour de force of pure entertainment."
—The Seattle Times

"Delicious . . . Hoffman is an unapologetic optimist, and optimism is in short supply these days. It feels like a vacation to curl up with [The Probable Future]."
—The New York Times Book Review

"Instantly alluring . . . A mysterious, modern-day fairy tale . . . Hoffman is an amazingly talented writer with a beautiful sense of sentence construction, an intriguing imagination, and the ability to create compelling, complex characters that readers care about."
—Fort Worth Star-Telegram

"Hoffman's ethereal tale of a family of women with supernatural gifts is a magical escape, grounded in the complex relationships between mothers and daughters."
—Marie Claire

"HOFFMAN KNOWS HOW TO PUT MAGIC INTO HER NOVELS, sometimes as an element of the plot;
always in the quality of her writing."
—The Hartford Courant

"The Probable Future dazzles with its bristling examination of life's trying tests of the women of the Sparrow family. The electrifying result is an under-the-microscope look at love, friendship, and the ties that blind and bind."
—The Seattle Times

"[A] bewitching story of gifted women unlucky at love . . . Hoffman is now expert at sketching the New England landscape in the past and future, and the equally chilly psychological landscape of extraordinary women trapped in an ordinary word. . . . She shows a deft hand at tracing the movement from child to adult, showing an unusual ability to create sympathetic characters of all ages."
—Richmond Times-Dispatch

"Hoffman has perfected her very own entrancing style of magical realism and mystical romance anchored to the moody, history-laden Massachusetts countryside. . . . Hoffman's newest cast of characters is unfailingly magnetic, from her eye-rolling teenagers to her wryly in-love seniors to her suddenly aflame fortysomethings, and the story she tells is as lush as it is suspenseful, as rich in earthy and sensuous detail as it is sweet and hopeful."
—Booklist

"Hoffman is at her best, chronicling in meticulous and beautiful detail the ways the three Sparrow women are transformed . . . The characters are richly
drawn, each idiosyncratically real and yet each just a bit of a sorceress."
—Book magazine (four stars)

"Full-bodied, wholly absorbing characters . . . Hoffman's storytelling is as spellbinding as ever."
—Publishers Weekly (starred review)

"Spellbinding . . . Of all the magical realists writing today, she may have the best sense of balance."
—Portland Oregonian

"Filled with vivid . . . characters and cinematic descriptions of New England landscapes, this book will be a hit."
—Library Journal

"[A] lyrical, magic-infused work . . . Another witches' brew of ethereal characters [and] lush settings."
—Seattle Post-Intelligencer

"Delicious . . . Like a piece of old-fashioned chocolate cake, Hoffman's novel feeds a craving."
—The New York Times Book Review

"Delicious . . . Hoffman is an unapologetic optimist, and optimism is in short supply these days. It feels like a vacation to curl up with this fairy tale suffused with the 'filmy green light' of spring, smelling of 'wild ginger and lake water,' its sweetness balanced by deft touches of the Gothic."
—The New York Times Book Review