We Shall Not Sleep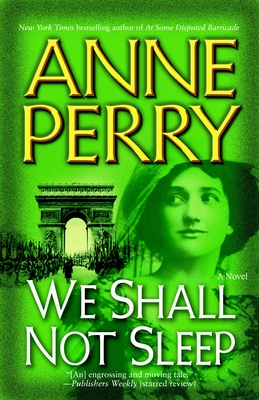 We Shall Not Sleep
Ballantine Books, Paperback, 9780345456618, 292pp.
Publication Date: March 25, 2008
* Individual store prices may vary.
Buy Now
or
Shop Local
Enter your zip code below to purchase from an indie close to you.
Description
Anne Perry's magnificent Victorian mysteries established her as one of the world's best known and loved historical novelists. Now, in her vividly imagined World War I novels, Perry's talents "have taken a quantum leap" (The Star-Ledger), and so has the number of her devoted readers. We Shall Not Sleep, the final book in this epic series featuring the dedicated Reavley family, is perhaps the most memorably enthralling of all Perry's novels.

After four long years, peace is finally in sight. But chaplain Joseph Reavley and his sister Judith, an ambulance driver on the Western Front, are more hard pressed than ever. Behind the lines, violence is increasing: soldiers are abusing German prisoners, a nurse has been raped and murdered, and the sinister ideologue called the Peacemaker now threatens to undermine the peace just as he did the war.

Then Matthew, the third Reavley sibling and an intelligence expert, suddenly arrives at the front with startling news. The Peacemaker's German counterpart has offered to go to England and expose his co-conspirator as a traitor. But with war still raging and prejudices inflamed, such a journey would be fraught with hazards, especially since the Peacemaker has secret informers everywhere, even on the battlefield.

For richness of plot, character, and feeling, We Shall Not Sleep is unmatched. Anne Perry's brilliantly orchestrated finale is a heartstopping tour de force, mesmerizing and totally satisfying.
About the Author
Anne Perry is the bestselling author of two acclaimed series set in Victorian England: the Charlotte and Thomas Pitt novels, including Buckingham Palace Gardens and Long Spoon Lane, and the William Monk novels, including Execution Dock and Dark Assassin. She is also the author of a series of five World War I novels, as well as seven holiday novels, most recently A Christmas Odyssey, and a historical novel, The Sheen on the Silk, set in the Ottoman Empire. Anne Perry lives in Scotland.
Praise For We Shall Not Sleep…
PRAISE FOR ANNE PERRY

Angels in the Gloom

"Perry creates a meticulously detailed backdrop, whether [on the] home front or [the] front lines, while leaving plenty of room for her characters to contemplate issues of honor, loyalty, and love."
–Booklist

"Bloody battles at sea, gumshoe work, family ties and gentle love add flavor as the mystery nears a climax."
–The Oklahoman

Shoulder the Sky

"An entertaining, suspenseful thriller . . . Perry is a skillful purveyor of popular fiction."
–The Washington Post


"Perry's bent for action and suspense greatly enlivens the story. . . . She is a careful researcher and [an] adept storyteller. But those talents have taken a quantum leap with the World War I series."
–The Star-Ledger

No Graves As Yet

"Perry's melancholy evocation of the 'eternal afternoon' that would soon turn to night all over England is lovely."
–The New York Times Book Review

"Suspenseful, often heartbreaking and riveting . . . This is Perry's probing, brooding landscape of the soul, which she masters and makes her own."
–Providence Journal