Great Sky Woman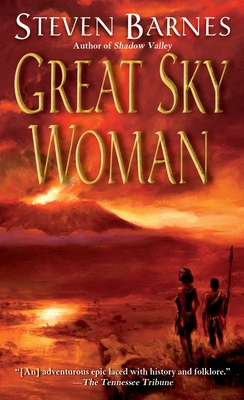 Great Sky Woman
Del Rey Books, Mass Market Paperbound, 9780345459022, 382pp.
Publication Date: March 24, 2009
* Individual store prices may vary.
Buy at Local Store
Enter your zip code below to purchase from an indie close to you.
or
Not Currently Available for Direct Purchase
Description
The epic story of how primitive humans, without words or machines, set in motion civilization's long, winding journey to the present.
Thirty thousand years ago, in the heart of the African continent and in the shadow of Mount Kilimanjaro, lived the Ibandi, who for generations nurtured their ancient traditions, and met survival's daily struggle with quiet faith in their gods. T Cori, an abandoned girl, and Frog Hopping, a boy possessing a gift that is also a curse, are two of the Ibandi's chosen ones. Though they live in different encampments, Frog and T Cori are linked through the mysterious medicine woman known as Stillshadow, who has sensed in them a destiny apart from others . Through the years, and on their separate paths, T Cori's and Frog's fates entwine as an inevitable disaster approaches from the south from the very god they worship. For as long as there have been mountain, sky, and savannah, there has been a home for the Ibandi. Now, in the face of an enemy beyond anything spoken of even in legend, they must ask their god face-to-face: Do we remain or do we depart?
About the Author
Steven Barnes is a prolific author and scriptwriter who has been nominated for Hugo, Cable Ace, and Endeavor awards. His work for television includes episodes of Twilight Zone, Outer Limits, Stargate SG-1, and Andromeda. A lifelong student of human performance technologies, he holds black belts in judo and karate, has lectured at the Smithsonian, and is a trained hypnotherapist. He lives in Los Angeles with his wife, novelist Tananarive Due.
Praise For Great Sky Woman…
"[An] adventurous epic laced with history and folklore."—Tennessee Tribune

"Hugo Award nominee [Steven] Barnes embellishes his twentieth novel with folklore, spiritualism and impressive atmospheric detail. . . . A satisfying read with a tantalizing, ominous twist at the end."—Publishers Weekly