The Amber Room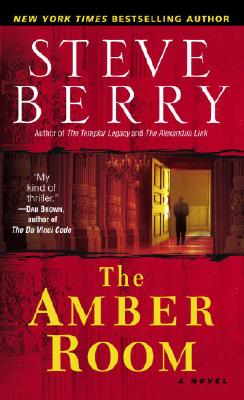 The Amber Room
Fawcett, Mass Market Paperback, 9780345460042, 416pp.
Publication Date: August 31, 2004
* Individual store prices may vary.
Buy at Local Store
Enter your zip code below to purchase from an indie close to you.
or
Not Currently Available for Direct Purchase
Description
Forged of the exquisite gem, the Amber Room is one of the greatest treasures ever made by man–and the subject of one of history's most intriguing mysteries. German troops invading the Soviet Union seized the Room in 1941. When the Allies bombed, the Room was hidden, and it has never been seen since. But now, the hunt has begun once more.

Atlanta judge Rachel Cutler loves her job and her kids, and remains civil to her ex-husband, Paul. But everything changes when her father dies under mysterious circumstances, leaving behind clues to a secret about something called the Amber Room. Desperate for the truth, Rachel takes off for Germany with Paul close behind. Before long, they're in over their heads. Locked into a treacherous game with professional killers, Rachel and Paul find themselves on a collision course with the forces of greed, power, and history itself.
About the Author
Steve Berry is the author of The Romanov Prophecy. He is a lawyer with more than twenty years of courtroom experience. He has traveled extensively throughout the Caribbean, Mexico, Europe, and Russia. He lives with his wife and daughter in Camden County, Georgia, and is currently working on his next novel. Visit the author on his Web site at www.steveberry.org.
Praise For The Amber Room…
"Sexy, illuminating, and confident . . . A globe-trotting treasure hunt packed with exotic locales, sumptuous art, and ruthless villains."
–DAN BROWN
Author of The Da Vinci Code

"COMPELLING . . . ADVENTURE FILLED . . . A fast-moving, globe-hopping tale of long-lost treasure and shadowy bad guys. Fans of Dan Brown's The Da Vinci Code will find much to like here."
–San Francisco Chronicle

"A thrilling piece of history . . . FAST-PACED, HIGHLY ENTERTAINING."
–The Advocate (Baton Rouge, LA)

"MAGNIFICENTLY ENGROSSING, with wonderful characters and a plot that speeds, twists, and turns. Pure intrigue, pure fun."
–CLIVE CUSSLER

"A winner the first time around . . . Combines the pace and style of Brown's Da Vinci Code and densely plotted espionage of Daniel Silva's Gabriel Allon novels."
–Florida Times-Union

"Plotted cleverly and written with style and substance. A welcome change."
–Booklist