The Savage Tales of Solomon Kane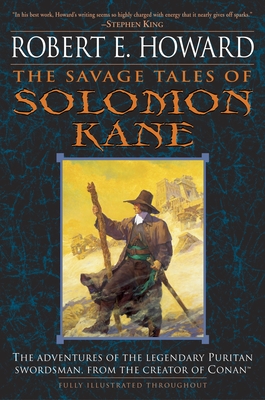 The Savage Tales of Solomon Kane
Del Rey Books, Paperback, 9780345461506, 414pp.
Publication Date: June 29, 2004
* Individual store prices may vary.
Buy at Local Store
Enter your zip code below to purchase from an indie close to you.
or
Buy Here
Description
With Conan the Cimmerian, Robert E. Howard created more than the greatest action hero of the twentieth century he also launched a genre that came to be known as sword and sorcery. But Conan wasn t the first archetypal
adventurer to spring from Howard's fertile imagination.
" He was . . . a strange blending of Puritan and Cavalier, with a touch of the ancient philosopher, and more than a touch of the pagan. . . . A hunger in his soul drove him on and on, an urge to right all wrongs, protect all weaker things. . . . Wayward and restless as the wind, he was consistent in only one respect he was true to his ideals of justice and right. Such was Solomon Kane.
"Collected in this volume, lavishly illustrated by award-winning artist Gary Gianni, are all of the stories and poems that make up the thrilling saga of the dour and deadly Puritan, Solomon Kane. Together they constitute a sprawling epic of weird fantasy adventure that stretches from sixteenth-century England to remote African jungles where no white man has set foot. Here are shudder-inducing tales of vengeful ghosts and bloodthirsty demons, of dark sorceries wielded by evil men and women, all opposed by a grim avenger armed with a fanatic's faith and a warrior's savage heart.
"This edition also features exclusive story fragments, a biography of Howard by scholar Rusty Burke, and In Memoriam, H. P. Lovecraft's moving tribute to his friend and fellow literary genius.

About the Author
Robert E. Howard (1906 1936), an American pulp fiction writer who is best known as the creator of Conan, wrote a huge number of stories in a variety of genres, including fantasy, westerns, horror, and even boxing stories.

Gary Gianni has adapted and illustrated a wide variety of books, including John Henry, Kidnapped, Moby Dick, The Savage Tales of Solomon Kane, The Complete Conan of Cimmeria, and more recently, Michael Chabon's Gentlemen of the Road. His comic's work includes Classics Illustrated, The Shadow, and The MonsterMen. He won an Eisner Award for his illustration of "Heroes," a tale included in Batman: Black and White. Gianni currently serves as the illustrator of the Prince Valiant Sunday comic strip.
Praise For The Savage Tales of Solomon Kane…
"Howard's writing seems so highly charged with energy that it nearly gives off sparks."
—STEPHEN KING

"I adore these books. Howard had a gritty, vibrant style—broadsword writing that cut its way to the heart, with heroes who are truly larger than life. I heartily recommend them to anyone who loves fantasy."
—DAVID GEMMELL
Author of Legend and White Wolf

"The voice of Robert E. Howard still resonates after decades with readers— equal parts ringing steel, thunderous horse hooves, and spattered blood.
Far from being a stereotype, his creation of Conan is the high heroic adventurer. His raw muscle and sinews, boiling temper, and lusty
laughs are the gauge by which all modern heroes must be measured."
—ERIC NYLUND, Author of
Halo: The Fall of Reach and Signal to Noise

"That teller of marvelous tales, Robert Howard, did indeed create a giant [Conan] in whose shadow other 'hero tales' must stand."
—JOHN JAKES, New York Times bestselling author
of the North and South trilogy

"For stark, living fear . . . what other writer is even in the running with Robert E. Howard?"
—H. P. LOVECRAFT

"Howard wrote pulp adventure stories of every kind, for every market he could find, but his real love was for supernatural adventure and he brought a brash, tough element to the epic fantasy which did as much to change the course of the American school away from precious writing and static imagery as Hammett, Chandler, and the Black Mask pulp writers were to change the course of American detective fiction."
—MICHAEL MOORCOCK
Award winning author of the Elric saga

"In this, I think, the art of Robert E. Howard was hard to surpass: vigor, speed, vividness. And always there is that furious, galloping narrative pace."
—POUL ANDERSON

"Howard honestly believed the basic truth of the stories he was telling. It's as if he'd said, 'This is how life really was lived in those former savage times!' "
—DAVID DRAKE
Author of Grimmer Than Hell and Dogs of War

"For headlong, nonstop adventure and for vivid, even florid, scenery, no one even comes close to Howard."
—HARRY TURTLEDOVE

"HOWARD WAS THE THOMAS WOLFE OF FANTASY."
—STEPHEN KING

"The stories have a livingness about them [that's] impossible to fake. . . . Not one of them is boring—there is always some special touch—and most, of course, are rousers."
—GAHAN WILSON
Reviewer and author of I Paint What I See

"The best pulp (fantasy) writer was Robert E. Howard."
—FRITZ LEIBER
Author of Green Millennium
and Farewell to Lankhmar

"Weird, fantastic, but peopled with real men who think and act as we conceive the thoughts and acts of men. . . . None of the dummies that pirouette through some stories, using stilted, supposedly archaic language, and moving in response to the author's obvious string-pulling. All of which leads you to believe that I like it. Correct. I do."
—E. HOFFMAN PRICE
Author of The Jade Enchantress

"[Behind Howard's stories] lurks a dark poetry, and the timeless truth of dreams. That is why these tales have survived. They remain a fitting heritage of the poet and dreamer who was Robert E. Howard."
—ROBERT BLOCH
Author of Psycho

"HOWARD WAS A TRUE STORYTELLER—one of the first, and certainly among the best, you'll find in heroic fantasy. If you've never read him before, you're in for a real treat."
—CHARLES DE LINT
Award-winning author of Forests of the Heart and The Onion Girl