Six Days of War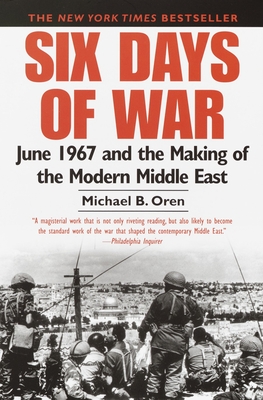 Six Days of War
June 1967 and the Making of the Modern Middle East
Presidio Press, Paperback, 9780345461926, 480pp.
Publication Date: June 3, 2003
* Individual store prices may vary.
Buy at Local Store
Enter your zip code below to purchase from an indie close to you.
or
Buy Here
Description
"
"Though it lasted for only six tense days in June, the 1967 Arab-Israeli war never really ended. Every crisis that has ripped through this region in the ensuing decades, from the Yom Kippur War of 1973 to the ongoing "intifada," is a direct consequence of those six days of fighting. Michael B. Oren's magnificent "Six Days of War," an internationally acclaimed bestseller, is the first comprehensive account of this epoch-making event.
Writing with a novelist's command of narrative and a historian's grasp of fact and motive, Oren reconstructs both the lightning-fast action on the battlefields and the political shocks that electrified the world. Extraordinary personalities Moshe Dayan and Gamal Abdul Nasser, Lyndon Johnson and Alexei Kosygin rose and toppled from power as a result of this war; borders were redrawn; daring strategies brilliantly succeeded or disastrously failed in a matter of hours. And the balance of power changed in the Middle East and in the world. A towering work of history and an enthralling human narrative, "Six Days of War" is the most important book on the Middle East conflict to appear in a generation.
About the Author
Michael B. Oren is the author of "The Origins of the Second Arab-Israeli War," and has written extensively on Middle Eastern history and diplomatic affairs. He received his Ph.D. from Princeton University in Middle East studies. He has served as Director of Israel s Department of Inter-Religious Affairs in the government of the late Prime Minister Yitzhak Rabin, and as an adviser to the Israeli delegation to the United Nations. He is currently a Senior Fellow at the Shalem Center in Jerusalem."
Praise For Six Days of War…
"POWERFUL . . . A HIGHLY READABLE, EVEN GRIPPING ACCOUNT OF THE 1967 CONFLICT . . . [Oren] has woven a seamless narrative out of a staggering variety of diplomatic and military strands."
— The New York Times

"WITH A REMARKABLY ASSURED STYLE, OREN ELUCIDATES NEARLY EVERY ASPECT OF THE CONFLICT . . . Oren's [book] will remain the authoritative chronicle of the war. His achievement as a writer and a historian is awesome."
—The Atlantic Monthly

"THIS IS NOT ONLY THE BEST BOOK SO FAR WRITTEN ON THE SIX-DAY WAR, IT IS LIKELY TO REMAIN THE BEST."
—The Washington Post Book World

"PHENOMENAL . . . BREATHTAKING HISTORY . . .
A PROFOUNDLY TALENTED WRITER . . . .
This book is not only one of the best books on this critical episode in Middle East history; it's one of the best-written books I've read this year, in any genre."
—The Jerusalem Post

"[In] Michael Oren's richly detailed and lucid account, the familiar story is thrilling once again. . . . What makes this book important is the breadth and depth of the research."
—The New York Times Book Review

"A FIRST-RATE NEW ACCOUNT OF THE CONFLICT."
—The Washington Post

"The definitive history of the Six-Day War . . . [Oren's] narrative is precise but written with great literary flair. In no one else's study is there more understanding or more surprise."
—MARTIN PERETZ, Publisher
The New Republic

"COMPELLING, PERHAPS EVEN VITAL, READING."
—San Jose Mercury News