The Flamenco Academy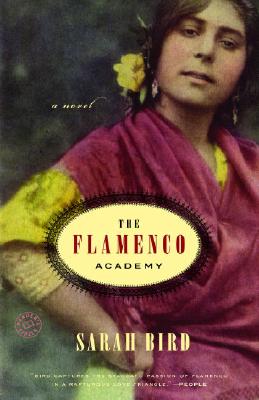 The Flamenco Academy
Ballantine Books, Paperback, 9780345462381, 400pp.
Publication Date: October 16, 2007
* Individual store prices may vary.
Buy at Local Store
Enter your zip code below to purchase from an indie close to you.
or
Not Currently Available for Direct Purchase
Description
"Bird captures the staccato passion of flamenco in a rapturous love triangle."
–People

"The Flamenco Academy opens so boldly . . . that you have to wonder how [Sarah] Bird can sustain such high drama. But it quickly becomes apparent that she's mapped her novel's treacherous terrain and planned accordingly, building characters sturdy enough to stand firmly, even when their emotions are spinning out of control."
–The New York Times Book Review

The first commandment of flamenco is Dame la verdad–Give me the truth. But for Cyndi Rae Hrncir, a shy seventeen-year-old, the truth is too painful to share. When Rae becomes infatuated with the devastatingly handsome flamenco guitarist Tomás Montenegro, she and her best friend, Didi, immerse themselves in the exotic world of the Gypsy dance and in the spellbinding stories told by their legendary teacher, Doña Carlota, Tomás's great-aunt. Locked in a volatile triangle and driven by obsession–Didi with fame, Rae with Tomás, and Tomás with the mystery of his origin–the three sharpen their performances, while danger, longing, and betrayal pulse beneath each step. When a heartbreaking longheld secret comes to light, Rae is duty-bound to honor the laws of flamenco and finally reveal the truth.

"The stuff bestsellers are made of . . . [The Flamenco Academy is] funny and beautifully structured to create anticipation and suspense, with lush moments of romance and a surprisingly sturdy backbone."
–Kirkus Reviews (starred review)

"Good conflict makes good fiction, and that's what gives The Flamenco Academy such irresistible energy and narrative drive. . . . A heady brew of a novel, lushly romantic at one turn, wryly and wittily observant at the next."
–Houston Chronicle

"A deft exploration of love, desire and jealousy told against the backdrop of that most complex of dances, flamenco."
–Baltimore Sun
About the Author
Sarah Bird is the author of five previous novels: The Yokota Officers Club, Virgin of the Rodeo, The Mommy Club, The Boyfriend School, and Alamo House. She is a columnist for the Texas Monthly and has written for The New York Times, Chicago Tribune, O Magazine, Glamour, and Mademoiselle, among other publications. She lives in Austin, Texas, with her husband, George, and son, Gabriel.
Praise For The Flamenco Academy…
"More than a summer romance . . . The Flamenco Academy is a deft exploration of love, desire and jealousy told against the backdrop of that most complex of dances, flamenco."
—The Baltimore Sun

"A compelling story brimming with the history and rhythm of flamenco . . . Bird's tale of romance and betrayal evokes the passion of flamenco itself."
—bRILLIANT

"A heady brew of a novel, lushly romantic at one turn, wryly and wittily observant at the next."
—San Jose Mercury News

"Stunning and ambitious, a tale of obsession and, yes, gypsies . . . Bird's travelogue to the little-known universe of flamenco puro and its cantaores (singers), tocaores (guitarists), and flamencas (dancers) is enthralling."
—Texas Monthly

"If you want a good, solid summer romp, Sarah Bird's The Flamenco Academy ought to be way up there on your reading list."
—The Austin American Statesman

"In the monolithic culture of flamenco, Bird finds a remarkable landscape for transforming the inaccessible whims of an obsessive, lonely teenager into the epic saga of self-acceptance, loyalty and love to which no one is immune."
—The Austin Chronicle

"Fascinating . . .A tale of friendship and betrayal with powerful glimpses into the legacy of flamenco, its mysteries and power . . . After reading The Flamenco Academy, it may be impossible to ever think of the art of flamenco in the same way."
—Santa Fe Reporter