Battle Surgeons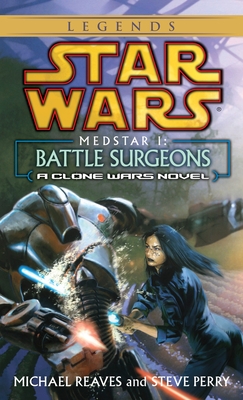 Battle Surgeons
Star Wars Legends (Medstar, Book I)
Del Rey Books, Mass Market Paperbound, 9780345463104, 320pp.
Publication Date: June 29, 2004
* Individual store prices may vary.
Buy at Local Store
Enter your zip code below to purchase from an indie close to you.
or
Buy Here
Description
As Civil War between the Republic and the Separatists rages across the galaxy, nowhere is the fighting more fierce than on the swamp world of Drongar, where a beleaguered mobile hospital unit wages a never-ending war of its own . . .
A surgeon who covers his despair with wise-cracks; another who faces death and misery head-on, venting his emotions through beautiful music . . . A nurse with her heart in her work and her eye on a doctor . . . A Jedi Padawan on a healing mission without her Master . . . These are the core members of a tiny med unit serving the jungle world of Drongar, where battle is waged over the control of a priceless native plant, and an endless line of medlifters brings in the wounded and dying -- mostly clone troopers, but also soldiers of all species.
While the healers work desperately to save lives, others plot secretly to profit from the war -- either by dealing on the black market or by manipulating the events of the war itself. In the end, though, all will face individual tests, and only those of compassionate hearts and staunch spirits can hope to survive to fight another day.
About the Author
Michael Reaves is an Emmy Award-winning television writer and screenwriter who has written, story edited, or produced nearly four hundred teleplays for various series, including Star Trek: The Next Generation, The Twilight Zone, Sliders, and Monsters. He has published many books, including the New York Times bestseller Star Wars: Darth Maul: Shadow Hunter. He's also written short fiction, comic books, and the dialogue for a Megadeth video. He lives in California.

Steve Perry has sold dozens of stories to magazines and anthologies and has also written a considerable number of novels, animated teleplays, nonfiction articles, reviews, and essays, along with a couple of unproduced movie scripts. He wrote for the television show Batman: The Animated Series and was nominated for an Emmy for Outstanding Writing, and his novelStar Wars: Shadows of the Empire spent ten weeks on the New York Times bestseller list. He also wrote the bestselling novelization of the blockbuster movie Men in Black, and all of his collaborative novels for Tom Clancy s Net Force series have made the New York Times bestseller list. He is a recipient of the Willamette Writers Lifetime Achievement Award.