Jedi Healer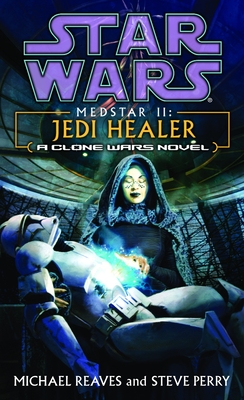 Jedi Healer
Del Rey Books, Mass Market Paperbound, 9780345463111, 302pp.
Publication Date: September 28, 2004
* Individual store prices may vary.
Buy at Local Store
Enter your zip code below to purchase from an indie close to you.
or
Buy Here
Description
"While the Clone Wars wreak havoc throughout the galaxy, the situation on the far world of Drongar is desperate, as Republic forces engage in a fierce fight with the Separatists. . . .
"
The threatened enemy offensive begins as the Separatists employ legions of droids into their attack. Even with reinforcements, the flesh and blood of the Republic forces are just no match for battle droids durasteel. Nowhere is this point more painfully clear than in the steaming Jasserak jungle, where the doctors and nurses of a small med unit face an impossible situation. As the dead and wounded start to pile up, surgeons Jos Vandar and Kornell Uli Divini know that time is running out.
Even the Jedi abilities of Padawan Barriss Offee have been stretched to the limit. Ahead lies a test for Barriss that could very well lead to her death and that of countless others. For the conflict is growing and for this obscure mobile med unit, there's only one resolution. Shocking, bold, unprecedented, it's the only option Jos and his colleagues really have. The unthinkable has become the inevitable. Whether it kills them or not remains to be seen.
About the Author
Michael Reaves is an Emmy Award-winning television writer and screenwriter who has written, story edited, or produced nearly four hundred teleplays for various series, including Star Trek: The Next Generation, The Twilight Zone, Sliders, and Monsters. He has published many books, including the New York Times bestseller Star Wars: Darth Maul: Shadow Hunter. He's also written short fiction, comic books, and the dialogue for a Megadeth video. He lives in California.

Steve Perry has sold dozens of stories to magazines and anthologies and has also written a considerable number of novels, animated teleplays, nonfiction articles, reviews, and essays, along with a couple of unproduced movie scripts. He wrote for the television show Batman: The Animated Series and was nominated for an Emmy for Outstanding Writing, and his novelStar Wars: Shadows of the Empire spent ten weeks on the New York Times bestseller list. He also wrote the bestselling novelization of the blockbuster movie Men in Black, and all of his collaborative novels for Tom Clancy s Net Force series have made the New York Times bestseller list. He is a recipient of the Willamette Writers Lifetime Achievement Award.