The Early Stories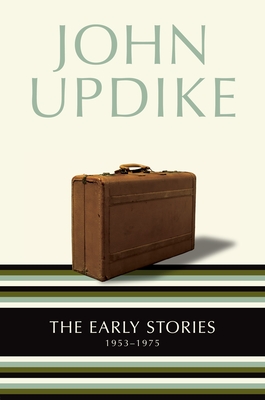 The Early Stories
1953-1975
Ballantine Books, Paperback, 9780345463364, 838pp.
Publication Date: September 28, 2004
* Individual store prices may vary.
Shop Local
Enter your zip code below to find indies closest to you.
Description
Winner of the PEN/Faulkner Award for Fiction
A harvest and not a winnowing, this volume collects 103 stories, almost all of the short fiction that John Updike wrote between 1953 and 1975. How rarely it can be said of any of our great American writers that they have been equally gifted in both long and short forms, reads the citation composed for John Updike upon his winning the 2006 Rea Award for the Short Story. Contemplating John Updike's monumental achievement in the short story, one is moved to think of Nathaniel Hawthorne, Henry James, Ernest Hemingway, and perhaps William Faulkner writers whose reputations would be as considerable, or nearly, if short stories had been all that they had written. From his] remarkable early short story collections . . . through his beautifully nuanced stories of family life and] the bittersweet humors of middle age and beyond . . . John Updike has created a body of work in the notoriously difficult form of the short story to set beside those of these distinguished American predecessors. Congratulations and heartfelt thanks are due to John Updike for having brought such pleasure and such illumination to so many readers for so many years.
About the Author
John Updike's novels have won the Pulitzer Prize, the National Book Award, the American Book Award, the National Book Critics Circle Award, the Rosenthal Award, and the Howells Medal. He died of lung cancer in 2009, at age 75.
Praise For The Early Stories…
"Classic gems . . . These stories, like Mr. Updike's finest novels . . . preserve a time and a place through the sorcery of words."—The New York Times
 
"[Updike is] akin to Coleridge and Shelley, only with an American twist. One story at a time, he [reminds] Americans that in spite of life's largesse, things fail; one sentence at a time, he reveals that through the small details, it can be sublime."—The Denver Post
 
"Updike's artistry—normally glimpsed in sections, like a person through window slats—is wholly and deeply seen. . . . One reads through the plenitude with delight, expectation, and at all times gratitude."—The Atlantic Monthly