Monkey Hunting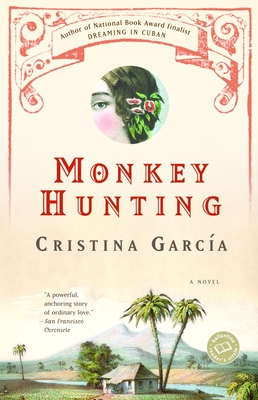 Monkey Hunting
Ballantine Books, Paperback, 9780345466105, 288pp.
Publication Date: April 27, 2004
* Individual store prices may vary.
Buy at Local Store
Enter your zip code below to purchase from an indie close to you.
or
Buy Here
Description
In this deeply stirring novel, acclaimed author Cristina Garcia follows one extraordinary family through four generations, from China to Cuba to America. Wonderfully evocative of time and place, rendered in the lyrical prose that is Garcia's hallmark, Monkey Hunting is an emotionally resonant tale of immigration, assimilation, and the prevailing integrity of self.
About the Author
Cristina Garcia was born in Havana and grew up in New York City. Her first novel, Dreaming in Cuban, was nominated for a National Book Award and has been widely translated. Ms. Garcia has been a Guggenheim Fellow, a Hodder Fellow at Princeton University, and the recipient of a Whiting Writers Award. She lives in Santa Monica with her daughter, Pilar. From the Hardcover edition."
Praise For Monkey Hunting…
"A miracle of poetic compression . . . With the confidence of an artist who knows exactly what can be left out, García has made a small masterpiece—an epic of anecdotes, a vista of brief and beautiful glimpses."
—Los Angeles Times

"García combines her gorgeous writing with a relentless view of history and a fierce understanding of the degree to which the individual life is at the mercy of larger forces."
—The Atlantic

"Monkey Hunting demonstrates that Ms. García can write just as persuasively about men as she has about women, and it signals her ambition to broaden her canvas, to explore in detail not only her characters' inner lives but also the great public events that shape their daily existences."
—The New York Times

"A miracle of poetic compression . . . With the confidence of an artist who knows exactly what can be left out, García has made a small masterpiece—an epic of anecdotes, a vista of brief and beautiful glimpses."
—Los Angeles Times

"García combines her gorgeous writing with a relentless view of history and a fierce understanding of the degree to which the individual life is at the mercy of larger forces."
—The Atlantic

"Monkey Hunting demonstrates that Ms. García can write just as persuasively about men as she has about women, and it signals her ambition to broaden her canvas, to explore in detail not only her characters' inner lives but also the great public events that shape their daily existences."
—MICHIKO KAKUTANI,
The New York Times

"RADIANT . . . MESMERIZING . . .
A LOVING EXPLORATING OF HERITAGE . . .
García's grasp of atmosphere is nonpareil and the physicality of her scene setting is intoxicating . . . García writes so well, she puts the reader in the room with her characters. . . . Monkey Hunting is a novel of great scope."
—Milwaukee Journal Sentinel

"An epic tearjerker . . . The story spans two continents, four generations, several wars, and the rise of two terrible dictators [yet] the focus always remains on the characters, a family of downtrodden dreamers. . . . García's luminous prose makes palpable the pang of homesickness, the gut-punch of heartbreak. By the end, we are both exhausted from her characters' incredible journeys and buoyed by their strengths."
—Time Out New York

"García employs an exuberant prose style in which even the smallest of her torrent of details come heavily jeweled. . . . Escape, family ties, luck, the pull of the homeland—these García trademarks serve here as background and texture to another, more singular matter of the fully lived life."
—San Francisco Chronicle

"Such is the force of García's sensual, warm, witty prose [that] I was happy to follow wherever she led . . . . I soon found myself deeply attached to both major and minor characters."
— The Atlantic

"GORGEOUSLY DETAILED AND ENTRANCINGLY TOLD,
EROTIC, MYSTICAL, AND WISE,
García's bittersweet saga of a family of remarkable individuals spans a century of displacement, war, and sacrifice, and a world of forbearance and love. . . . [García] writes pristinely lyrical and enchanting prose, and creates powerfully alluring characters, delectable qualities she takes to new heights in this many-faceted tale about an extended Chinese Cuban family."
—Booklist

"Up to now, [García's] most formidable and affecting characters . . . have been women, extravagant creatures of ripe, even frenzied passions who bloom from the page as colorful as hibiscus blossoms and as huge as Amazons . . . and happily, Monkey Hunting swells their ranks by two."
—Miami Herald

"[García] paints a vivid picture of her native Havana, both before and after Castro came to power. . . . Although few Chinese remain in Cuba, their legacy remains in Havana's Chinatown. García's eloquent novel is a fitting tribute to their lives."
—St. Louis Post-Dispatch

"Elegantly written . . . In this multi-generational saga, which embraces many cultures and spans more than a century, Cristina García demonstrates how much the human spirit can endure."
—Seattle Times/Post Intelligencer

"Graceful . . . Told in unsparing detail . . . Though García ranges further afield here than in previous works, her prose is as tight and polished as ever. . . . [Her] novel is a richly patterned mini-epic, a moving chorus of distinct voices."
—Publishers Weekly (starred review)

"A VIVID FAMILY SAGA . . .
GARCÍA WRITES BEAUTIFULLY."
—Austin American-Statesman

"An expert sense of timing and pace . . . This slim book lodges so deeply under the skin. In describing the sensual world, García depicts her characters' experiences so luminously that it's easy to feel the pang of their homesickness, the oomph of their heartbreak."
—The Boston Sunday Globe

"García has a rare gift for concentrating beauty by leaving things out. Here is . . . a novel that manages to trace four generations of a family not by revealing every last detail of personal histories but rather by revealing people's dreams, their unuttered concerns and observations. . . . Whether she's writing about the food stalls in Chinatown, the lovingly tended graves in the city's Chinese cemetery, or even the absurd assortment of curios in the Lucky Find, García savors her descriptions and never rushes through any of them, carefully building for us a Havana of cinematic vividness, detail by shimmering detail."
—Los Angeles Times Book Review

"In Monkey Hunting, author Cristina García does again what she is so adept at: guiding the reader through multiple generations of well-fleshed characters moving through time and place. . . . Monkey Hunting [is] a sensuous mosaic of fierce struggles to survive in new worlds.
This worthy novel deserves a broad audience."
—The Oregonian

"A provocative, generational story."
—Desert News (Salt Lake City, UT)

"FIERCE AND INTOXICATING . . . VIVIDLY IMAGINED . . . MONKEY HUNTING IS A LUCKY FIND, INDEED."
—Miami Herald

"García [is] a literary daughter mindful of her magic realist inheritance but maintaining a rebellious, streetwise edge all her own."
—The New York Times Book Review

"Visceral, poetic, fantastic . . . Sit back. Take it in. Read Monkey Hunting for its high-octane poetry, its cocktail of color and incident, its rat-a-tat-tat of vigorous verbs, and Isabel Allende–style eroticism. . . . Glorious images born of a writer who has a gift for splicing together unexpected scenes, cultures, and similes."
—Chicago Tribune

"At once dreamlike and historically accurate, lushly written and bristling with harsh human truths."
—L.A. Weekly

"DEEPLY AFFECTING . . . A POWERFUL, ANCHORING STORY OF ORDINARY LOVE . . . Chen Pan [is] a Chinese wheat farmer whom we first meet in 1857 as he boards a ship in the hope of prosperity and winds up enslaved on a Cuban sugar plantation. His brazen escape from his captors and ultimate success as a Havana businessman become a story told down the generations. . . . [His] granddaughter Chen Fang, born in China and educated like a boy, gives up her only child for a chance to teach literature. . . . [His] grandson Domingo Chen escapes Castro's Cuba with his physically and emotionally ruined father, embraces the myriad seductions of New York City and . . . delivers himself to the hell of the Vietnam War. . . . Havana's street life, Vietnam's whorehouses, China's staid interiors are meticulously rendered, visceral, [and] fully alive."
—San Francisco Chronicle

"García is an immensely talented writer whose work, like that of Jessica Hagedorn, Sherman Alexie, and David Foster Wallace, is renewing American fiction."
—The Nation

"A POWERFUL, ANCHORING STORY OF ORDINARY LOVE . . . Chen Pan [is] a Chinese wheat farmer whom we first meet in 1857 as he boards a ship in the hope of prosperity and winds up enslaved on a Cuban sugar plantation. His brazen escape from his captors and ultimate success as a Havana businessman become a story told down the generations."
—San Francisco Chronicle