I Lost Everything in the Post-Natal Depression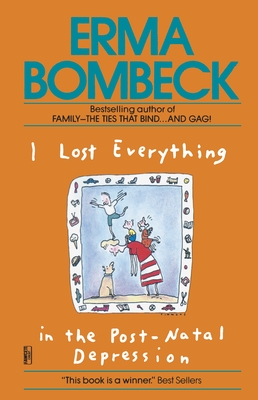 I Lost Everything in the Post-Natal Depression
Fawcett Books, Paperback, 9780345467591, 192pp.
Publication Date: January 3, 1995
* Individual store prices may vary.
Buy Now
or
Shop Local
Enter your zip code below to purchase from an indie close to you.
Description
Erma Bombeck has learned a few things about children and family over the years--and in a way that is uniquely and wonderfully her own, she shares everything she knows with her readers. Whether it's cleaning up after the kids and him, or expendable mothers-in-law, Erma Bombeck gets to the heart of the matter and makes us laugh through our tears.
About the Author
Erma Bombeck (1927 1996) was one of the best-loved humorists of her day, known for her witty books and syndicated columns. In 1967, she published "At Wit s End", a collection of her favorite columns. Bombeck would go on to write eleven more books, including "The Grass Is Always Greener Over the Septic Tank" (1976), "If Life Is a Bowl of Cherries, What Am I Doing in the Pits?" (1978), and "Aunt Erma s Cope Book" (1979). Her books were perennial bestsellers, and helped bolster her reputation as one of the nation s sharpest observers of domestic life. She continued writing her syndicated column until her death in 1996.