On Mystic Lake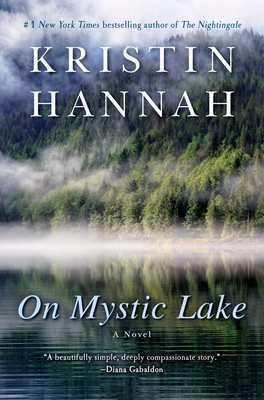 On Mystic Lake
Ballantine Books, Paperback, 9780345471178, 448pp.
Publication Date: April 27, 2004
* Individual store prices may vary.
Buy at Local Store
Enter your zip code below to purchase from an indie close to you.
or
Buy Here
Description
Annie Colwater's husband has just confessed that he's in love with a younger woman. Devastated, Annie retreats to the small town where she grew up. There, she is reunited with her first love, Nick Delacroix, a recent widower who is unable to cope with his silent, emotionally scarred young daughter. Together, the three of them begin to heal. But just when Annie believes she's been given a second chance at happiness, her world is turned upside down again, and she is forced to make a choice that no woman in love should ever have to make.
About the Author
Kristin Hannahis the #1"New York Times" bestselling author of many acclaimed novels. She and her husband live in the Pacific Northwest and Hawaii. "From the Hardcover edition.""
Praise For On Mystic Lake…
"Superb . . . I'll heartily recommend On Mystic Lake to any woman . . . who demands that a story leave her in a satisfied glow."
—The Washington Post Book World

"A LUMINESCENT STORY . . . Hannah touches the deepest, most tender corners of our hearts."
—TAMI HOAG

"MARVELOUS . . . A TOUCHING LOVE STORY . . . You know a book is a winner when you devour it in one evening and hope there's a sequel. . . . This page-turner has enough twists and turns to keep the reader up until the wee hours of the morning."
—USA Today

"EXCELLENT . . . ON MYSTIC LAKE IS AN EMOTIONAL EXPERIENCE YOU WON'T SOON FORGET."
—Rocky Mountain News

"ON MYSTIC LAKE
PROPELS READERS FORWARD TO THE FINAL CHAPTER."
—The Seattle Times

"A big, beautiful story of love, family, and second chances. Kristin Hannah has written the Must-Read Book of the Year!"
—SUSAN ELIZABETH PHILLIPS
Author of Ain't She Sweet?

"The phrase 'page-turner' is redefined. . . . A clean, deep thrust into the reader's heart . . . Unfolds tenderly and with suspense . . . In Hannah's world, nothing can be taken for granted and triumph must be earned, with hard work, truthful reckoning, and tears."
—Publishers Weekly (starred review)

"Brimming with the kinds of emotions that tug at the heartstrings . . . Hannah's writing is all her romance fans have come to expect. It is as rich as the fertile Pacific Northwest rain forest she writes about and as soft around the edges as the fog on Mystic Lake."
—The Cleveland Plain Dealer

"On Mystic Lake not only touches the heart, it helps redefine women's fiction for a new generation of readers. A haunting, evocative tale of love lost and found. A glowing, deeply felt tribute to the triumphant possibilities of self-discovery, personal growth, and change."
—JAYNE ANN KRENTZ

"ON MYSTIC LAKE IS SIMPLY WONDERFUL!"
—TAMI HOAG

"Hannah is observant and can turn a phrase. . . . [She] is superb at delving into her main characters' psyches and delineating nuances of feeling. . . . I'm sure there isn't a woman over the age of thirty-five who couldn't identify with Annie's sense of loss and abandonment, or share in her triumph as she regains her self-confidence and an identity separate from that of wife and mother. These jaded eyes actually got misty at the passages in which six-year-old Izzy implores her dead mother's spirit to wait for her, my skin crawled along with Nick's as he jitters through the early stages of his recovery, and I even felt compassion for the inability of Blake the cad to care about anyone but himself."
—The Washington Post Book World

"On Mystic Lake is rich and dark, ripe with dense, smoky emotion, yet ultimately sweet at heart. . . . [The novel] is sentimental in the best sense, and like many of Hannah's earlier books, cathartic. She can make you cry, and in the end, offer a quiet resolution based on real growth."
—Contra-Costa Times

"A beautiful novel, heartbreaking and tender . . . Hannah writes of love with compassion and conviction, her characters so alive and dear you can't bear to see the novel end."
—LUANNE RICE

"A BEAUTIFULLY SIMPLE, DEEPLY COMPASSIONATE STORY."
—DIANA GABALDON

"Kristin Hannah breaks new ground in her powerful exploration of a woman rediscovering herself in On Mystic Lake. . . . Hannah has a signature talent for drawing deep into the hearts of her story's characters. These are real problems, and Hannah is a master portrayer of the human spirit. On Mystic Lake is too good to share—so buy extras!"
—BookPage

"A shining triumph that is not to be missed . . . Hauntingly beautiful and richly emotional."
—Romantic Times

"An extremely satisfying, insightful, and emotional tale. Fans of La Vyrle Spencer will certainly enjoy this moving book."
—Booklist

"Highly recommended . . . Fans of Anne Rivers Siddons will devour this."
—Library Journal

Kristin Hannah
"writes of love with compassion and conviction."
—LUANNE RICE
Author of Home Fires

"Remember the last time you finished a fabulous book and made your best friend read it? Get ready to feel that way again."
—SUSAN ELIZABETH PHILLIPS
Author of Dream a Little Dream