Accursed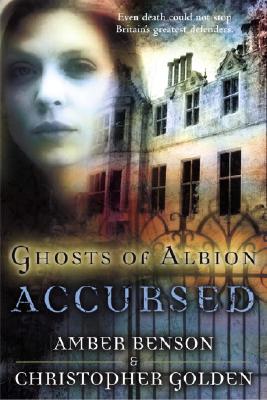 Accursed
Del Rey Books, Paperback, 9780345471307, 385pp.
Publication Date: October 25, 2005
* Individual store prices may vary.
Shop Local
Enter your zip code below to find indies closest to you.
Description
Even death could not stop Britain's greatest defenders.
In 1838, William and Tamara Swift inherit a startling legacy from their dying grandfather, transforming them into the Protectors of Albion, mystical defenders of the soul of England. But the shocked, neophyte sorcerers also inherit unique allies in their battle against the dark forces. Fighting alongside them are the famous even infamous Ghosts of Albion: Lord Byron, Queen Bodicea, and Lord Admiral Nelson.
When strange and hideous creatures appear in the slums of London, an unholy plague threatens to launch an epic battle that may rage all the way to Buckingham Palace . . . and beyond. Time is running out as William and Tamara must learn whether their friends will stand beside them, or seduce and betray them.
From Amber Benson, known for her dramatic portrayal of Tara in Buffy the Vampire Slayer, and Christopher Golden, Bram Stoker Award winning author of The Shadow Saga and Wildwood Road, comes a vengeful tale of demons, vampires, and ghosts set in nineteenth-century London. Based on the smash BBC Web series that took England by storm, Ghosts of Albion is a horror adventure laced with dark humor and darker lusts.
About the Author
Amber Benson is a writer, actress, and director who has written for the stage, screen, books, and comic books. She is perhaps best known for playing the role of "Tara" on the hit television show Buffy the Vampire Slayer. Amber lives in Los Angeles, California.This is her first children's book.

Christopher Golden is a New York Times bestselling author of novels for adults and teens, including Of Saints and Shadows, The Myth Hunters, The Boys Are Back in Town, Strangewood, and the Body of Evidence series of teen thrillers. He has cowritten two previous illustrated novels with Mike Mignola, the first of which, Baltimore, or, The Steadfast Tin Soldier and the Vampire, was the launching pad for the Eisner-nominated comic book series Baltimore. His current work-in-progress is a graphic novel trilogy collaboration with Charlaine Harris. As an editor, he has worked on the short-story anthologies The New Dead, The Monster s Corner, and 21st Century Dead, among others, and has also written and cowritten comic books, video games, and screenplays. Golden was born and raised in Massachusetts, where he still lives with his family. His original novels have been published in more than fourteen languages in countries around the world.
Praise For Accursed…
"Ghosts of Albion is a sexy, twisted dark-fantasy adventure–Benson and Golden have written one fantastic ride of a book. If Laurell K. Hamilton wrote tales of Victorian England, they might come close to this one."
–Douglas Clegg, Stoker Award—winning author of The Priest of Blood