The Battle for Pusan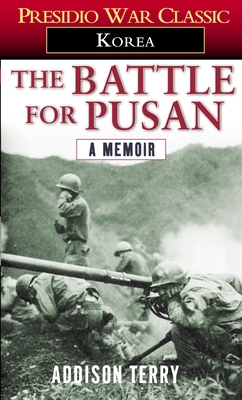 The Battle for Pusan
A Memoir
Presidio Press, Mass Market Paperbound, 9780345472625, 256pp.
Publication Date: April 25, 2006
* Individual store prices may vary.
Not Currently Available for Direct Purchase
or
Shop Local
Enter your zip code below to purchase from an indie close to you.
Description
"A great read [that] has frozen the events in print that molded great men who stood alone on the mainland of Asia against the first Asian Communist Army to engage the West."
–From the Foreword by Brig. Gen. Robert L. Scott, Jr., USAF (Ret.), author of God Is My Co-Pilot

The rapid-fire success of the North Korean Army's (NKA) invasion of South Korea, launched on June 25, 1950, and supported by Russia's vaunted T-34 tanks, stunned the world. By August 1, the entire South had fallen, save for the port city of Pusan.

As the enemy prepared to deliver the coup de grâce, only one obstacle remained: Lt. Addison Terry's unit, the famous Wolfhounds of the 27th Regimental Combat Team. Used as a "fire brigade" to shore up imperiled American defenses, these intrepid soldiers were in the thick of it, stopping the NKA's threat of a breakthrough at every turn. Against all odds, the Wolfhounds stood firm, racking up two Presidential Unit Citations within weeks. Terry's account, written while recovering from injuries he suffered during the battle, captures the war in all its grit, sacrifice, and courage.

"A fascinating first-person account of the early days of the Korean War."
–themilitarybookreview.com
About the Author
Addison "Add" Terry is the author of the award winning Battle of Pusan. He resigned from the regular army as a major in 1955. The Addison Terry Company was chartered in Atlanta, Georgia in that year and remains in business to this date. The company structured IPO's and arranged private placements. By the mid 1960 s the company was operating through North America and most of the Far East through an office in Sidney. The company was active in securing the permit for the Alaskan Pipeline. It participated in joint ventures in commercial real estate in several southern states. In 1978 it developed the Houston Southwest Airport, the largest airport in the nation ever built without federal or state funding. Add lives on a farm in Washington County, Texas and remains active in business and politics.