Narrative of the Life of Frederick Douglass, an American Slave & Incidents in the Life of a Slave Girl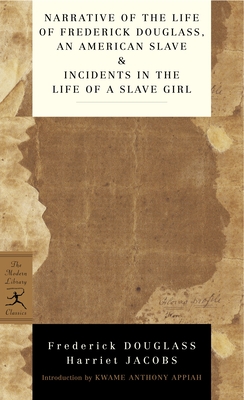 Narrative of the Life of Frederick Douglass, an American Slave & Incidents in the Life of a Slave Girl
Modern Library, Mass Market Paperbound, 9780345478238, 464pp.
Publication Date: December 28, 2004
* Individual store prices may vary.
Buy at Local Store
Enter your zip code below to purchase from an indie close to you.
or
Buy Here
Description
This Modern Library Paperback Classics edition combines the two most important African American slave narratives into one volume.

Frederick Douglass's Narrative, first published in 1845, is an enlightening and incendiary text. Born into slavery, Douglass became the preeminent spokesman for his people during his life; his narrative is an unparalleled account of the dehumanizing effects of slavery and Douglass's own triumph over it. Like Douglass, Harriet Jacobs was born into slavery, and in 1861 she published Incidents in the Life of a Slave Girl, now recognized as the most comprehensive antebellum slave narrative written by a woman. Jacobs's account broke the silence on the exploitation of African American female slaves, and it remains crucial reading. These narratives illuminate and inform each other. This edition includes an incisive Introduction by Kwame Anthony Appiah and extensive annotations.
About the Author
Frederick Augustus Washington Bailey (Frederick Douglass) was born a slave in Talbot County, Maryland. He took the name Douglass after escaping from the South in 1838.
As a leader in the abolitionist movement, Douglass was famed for his eloquent yet incisive political writing. And, like his near-contemporary, Booker T. Washington, understood the central importance of education in improving the lives of African Americans, and was therefore an early proponent of desegregation.
A firm believer in equal rights for all, Douglass attended a meeting of the National Council of Women in Washington, D.C., in the hours before his death in February 1895.
Harriet Ann Jacobs (1813-1897) was an African American writer, who was born into slavery, but managed to gain her freedom. She was a reformer and an abolitionist speaker. In addition, under the name Linda Brent, she wrote Incidents in the Life of a Slave Girl, one of the first autobiographies about living in slavery. That narrative included her accounts of the sexual abuse female slaves suffered, as well as the struggle for freedom.
Kwame Anthony Appiah, the president of the PEN American Center, is the author of The Ethics of Identity, Thinking It Through: An Introduction to Contemporary Philosophy, The Honor Code, and the prize-winning Cosmopolitanism. Raised in Ghana and educated in England, he has taught philosophy on three continents and is currently a professor at Princeton University.