Queen of the Underworld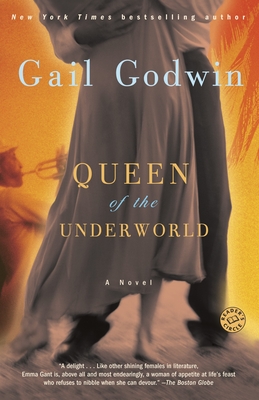 Queen of the Underworld
Ballantine Books, Paperback, 9780345483195, 368pp.
Publication Date: January 30, 2007
* Individual store prices may vary.
Buy at Local Store
Enter your zip code below to purchase from an indie close to you.
or
Buy Here
Description
Here at last is the eagerly awaited new novel from New York Times bestselling author Gail Godwin. Queen of the Underworld is sweeping and sultry literary fiction, featuring a memorable young heroine and engaging characters whose intimate dramas interconnect with hers.
In the summer of 1959, as Castro clamps down on Cuba and its first wave of exiles flees to the States to wait out what they hope to be his short-lived reign, Emma Gant, fresh out of college, begins her career as a reporter. Her fierce ambition and belief in herself are set against the stories swirling around her, both at the newspaper office and in her downtown Miami hotel, which is filling up with refugees.
Emma's avid curiosity about life thrives amid the tropical charms and intrigues of Miami. While toiling at the news desk, she plans the fictional stories she will write in her spare time. She spends her nights getting to know the Cuban families in her hotel-and rendezvousing with her married lover, Paul Nightingale, owner of a private Miami Beach club.
As Emma experiences the historical events enveloping the city, she trains her perceptive eye on the people surrounding her: a newfound Cuban friend who joins the covert anti-Castro training brigade, a gambling racketeer who poses a grave threat to Paul, and a former madam, still in her twenties, who becomes both Emma's obsession and her alter ego. Emma's life, like a complicated dance that keeps sweeping her off her balance, is suddenly filled with divided loyalties, shady dealings, romantic and professional setbacks, and, throughout, her adamant determination to avoid "usurpation" by others and remain the protagonist of her own quest.
"From the Hardcover edition.
About the Author
Gail Godwin is the author of ten novels, three of which were nominated for National Book Awards. A Southern Family and Father Melancholy's Daughter were both NYT bestsellers and Main Selections of the Book of the Month Club. She has been translated into 12 languages. She is a Guggenheim Fellow and the recipient of an Award in Literature from the American Academy of Arts and letters. She holds a doctorate in Modern Letters from the University of Iowa and has taught in the Iowa writers Workshop, Vassar and Columbia. A native of Asheville, N.C., she now lives in Woodstock, N.Y.
Praise For Queen of the Underworld…
Advance praise for Queen of the Underworld

"Queen of the Underworld will be a delight to [Godwin's] many admirers for whom The Odd Woman and A Mother and Two Daughters remain luminous in memory, like old, dear friends. Here is the irresistibly readable Godwin voice, tender and sardonic, warmly romantic and unflinchingly funny. Godwin's new heroine Emma Gant is as alive on the page as any 'fictitious' character has a right to be and when Emma takes leave of us, as she does in the startling ending of Queen of the Underworld, we miss her, and can't help but hope that her adventures in Florida at the time of the Cuban Revolution will be continued."
–Joyce Carol Oates

"Gail Godwin's excellent new novel seems to me to be a muted tragedy about a soul inside the body of a modern woman navigating through the terra incognita of modern times."
–Kurt Vonnegut

"Here is a wonderfully engaging story that explores the growth of a young woman beginning her career as a journalist. The inner workings of Emma's life are gracefully presented and marvelously mingled with the workings of the outer world; the combination provides a universe in which the reader is glad to reside." –Elizabeth Strout