Kull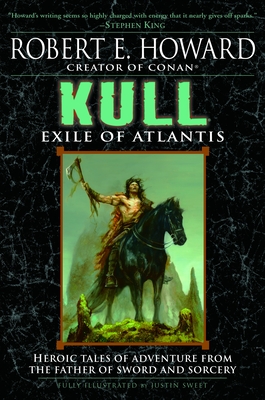 Kull
Exile of Atlantis
Del Rey Books, Paperback, 9780345490179, 317pp.
Publication Date: October 31, 2006
* Individual store prices may vary.
Buy Now
or
Shop Local
Enter your zip code below to purchase from an indie close to you.
Description
Howard's writing seems so highly charged with energy that it nearly gives off sparks.
Stephen King
Robert E. Howard had a gritty, vibrant style broadsword writing that cut its way to the heart, with heroes who are truly larger than life.
David Gemmell
In a meteoric career that spanned a mere twelve years, Robert E. Howard single-handedly invented the genre that came to be called sword and sorcery. From his fertile imagination sprang some of fiction's most enduring heroes. Yet while Conan is indisputably Howard's greatest creation, it was in his earlier sequence of tales featuring Kull, a fearless warrior with the brooding intellect of a philosopher, that Howard began to develop the distinctive themes, and the richly evocative blend of history and mythology, that would distinguish his later tales of the Hyborian Age.
Much more than simply the prototype for Conan, Kull is a fascinating character in his own right: an exile from fabled Atlantis who wins the crown of Valusia, only to find it as much a burden as a prize.
This groundbreaking collection, lavishly illustrated by award-winning artist Justin Sweet, gathers together all Howard's stories featuring Kull, from Kull's first published appearance, in The Shadow Kingdom, to Kings of the Night, Howard's last tale featuring the cerebral swordsman. The stories are presented just as Howard wrote them, with all subsequent editorial emendations removed. Also included are previously unpublished stories, drafts, and fragments, plus extensive notes on the texts, an introduction by Howard authority Steve Tompkins, and an essay by noted editor Patrice Louinet.
Howard was a true storyteller one of the first, and certainly among the best, you ll find in heroic fantasy. If you ve never read him before, you re in for a real treat.
Charles de Lint
For stark, living fear . . . what other writer is even in the running with Robert E. Howard?
H. P. Lovecraft.
About the Author
Robert E. Howard (1906 1936), an American pulp fiction writer who is best known as the creator of Conan, wrote a huge number of stories in a variety of genres, including fantasy, westerns, horror, and even boxing stories.

Justin Sweet is the John H. Boalt Professor of Law, Emeritus at the University of California at Berkeley. Born and raised in Wisconsin, he attended the University of Wisconsin, where he received a B.A., phi beta kappa, in literature in 1951 and an LL.B. in 1953. He was note editor for the "Law Review" and Order of the Coif. After serving on the staff of the attorney general of Wisconsin, he was in the Judge-Advocate General's Corps and later practiced in Milwaukee. He joined the Boalt faculty in 1958, where he taught Contracts, Construction Law, and Insurance until the early 1990s. Sweet was a visiting professor at the University of Rome (as a Fulbright Lecturer), Hebrew University, University of Leuven in Belgium, Osgoode Hall in Canada, Tel-Aviv University, and the University of Fribourg. He has written articles in many legal journals, many of which were collected in Sweet, Anthology of Construction Law Writings by the American Bar Association in 2010. He also wrote Sweet on Construction Law for the American Bar Association in 1997. Beginning in 2010, he has been writing on historic cases in each issue of the Journal of Legal Affairs & Dispute Resolution in Engineering and Construction. He was the co-founder and director of the International Construction Conference. It met in Fribourg, Switzerland, Berkeley, California and Washington D.C.