The Spectrum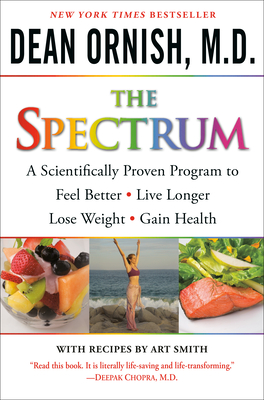 The Spectrum
A Scientifically Proven Program to Feel Better, Live Longer, Lose Weight, and Gain Health [With DVD]
Ballantine Books, Paperback, 9780345496317, 387pp.
Publication Date: December 30, 2008
* Individual store prices may vary.
Buy Now
or
Shop Local
Enter your zip code below to purchase from an indie close to you.
Description
From the author of the landmark bestseller "Dr. Dean Ornish's Program for Reversing Heart Disease" comes an empowering new program that enables you to customize a healthy way of eating and living based on your own desires, needs, and genetic predispositions.
Dr. Dean Ornish revolutionized medicine by directing clinical research proving for the first time that heart disease and early-stage prostate cancer may be stopped or even reversed by his program of comprehensive lifestyle changes, without drugs or surgery. His newest research was the first to show that changing your lifestyle changes your genes in men with prostate cancer turning on disease-preventing genes, and turning off genes that promote breast cancer, heart disease, and other illnesses, and in only three months. This study documented, also for the first time, that these lifestyle changes may significantly increase an enzyme that lengthens telomeres the ends of your chromosomes that control how long you live. As your telomeres get longer, your life gets longer. Your genes are not your fate.
"The Spectrum "features one hundred easy-to-prepare, delicious recipes from award-winning chef Art Smith. Whether you want to lose weight, lower your cholesterol, reverse a major disease, or find a sustainable, joyful lifestyle, " "The Spectrum can make a powerful difference in your health and well-being.
About the Author
Dean Ornish, M.D., is president and director of the Preventive Medicine Research Institute in Sausalito, CA. He is assistant clinical professor of medicine at the School of Medicine, University of California, San Francisco, and an attending physician at California Pacific Medical Center.

Smith is Oprah Winfrey's personal chef. For nearly 20 years, Art Smith has cooked professional for the families of celebrities.
Praise For The Spectrum…
"In 1993, Hillary asked Dr. Dean Ornish to consult with us on improving our health and well-being and to train the chefs who cooked for us at The White House, Camp David, and Air Force One.  I felt better and lost weight when I followed his recommendations.  As this book illustrates, my genes may have been improving as well!  If you want to see where medicine is likely to be five or ten years from now, read this book today."
—President Bill Clinton 
 
"Dr. Ornish's wonderful new book, The Spectrum, can make an important difference in the health of the world at a time when it most needs it."
—Gro Brundtland, M.D. Former Director General, World Health Organization, United Nations Former Prime Minister, Norway
 
"Dr. Dean Ornish knows more about inspiring people to eat well, live well, do well, and be well than anyone on the planet.  The Spectrum is a powerful book for living longer and better and shows how to live a healthful, joyful and loving life.  As Frank Sinatra once told me, 'Live each day like it's your last, and one day you'll be right.'"
—Quincy Jones
 
"Dr. Dean Ornish is one of my best students, and I agree with what he is telling you.  I have known him well for many years now.  So you should pay good attention to what he tells you in his new book, which I am pleased to strongly support.  I am in complete agreement with what he is saying in The Spectrum." 
—Alexander Leaf, M.D. Chairman, Dept. of Medicine (emeritus) and Chairman, Dept. of Preventive Medicine & Clinical Epidemiology (emeritus) Harvard Medical School & Massachusetts General Hospital
 
"The Spectrum provides unparalleled guidance and ideas from the sage of preventive medicine." 
—Larry Brilliant, M.D., M.P.H. Executive Director, Google Foundation & Google.org
 
"Dean Ornish has given us a delightfully readable, information-rich and extraordinarily helpful guide to a better, healthier life.  Read The Spectrum for yourself - and give a copy to someone you love."
—Daniel Goleman, author of Emotional Intelligence

"Read this book. It is literally life-saving and life-transforming."
–Deepak Chopra, M.D.

"The Spectrum is absolutely fantastic. Time and again, Dr. Dean Ornish has scientifically proven that what was once thought to be medically impossible is, in fact, possible. His work is truly revolutionary."
–Mehmet Oz, M.D., director, Cardiovascular Institute, Columbia University Medical Center, author of You: The Owner's Manual

"Dr. Dean Ornish has done more than anyone to bring modern science to the nutrition field."
–J. Craig Venter, Ph.D., first sequencer of the human genome